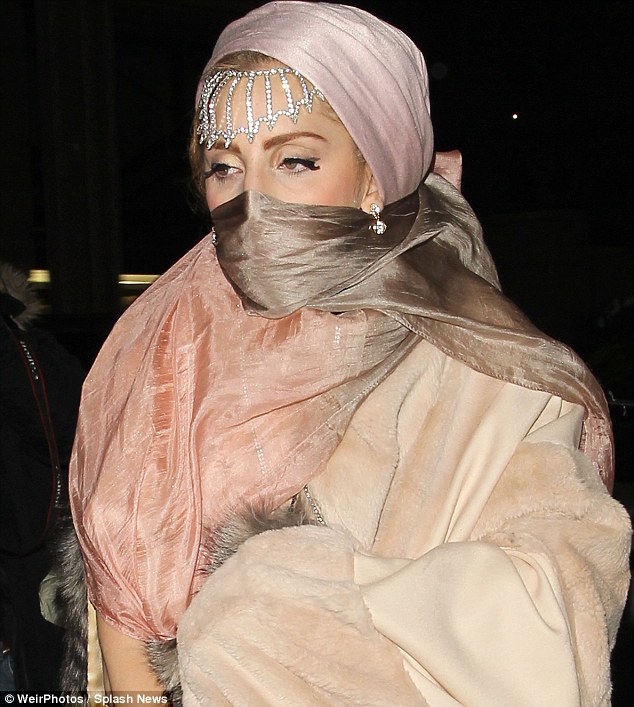 As the collections now move onto to London so does perennially stylish Lady Gagawho spared no extravagance as she took her rightful place front row looking like her own fashion forward production.
These past few days has seen the eponymous singer sport a number of risque outfits (yes Lady Gaga knows what you like to see) as she has made her front row rounds.
At one show, the singer was donned in an admittedly bizarre outfit that included a silk burka, jeweled head dress and a large fur coat like ensemble that carried quite the wingspan, which one assumes will leave her being condoned by animal rights group PETA. In a not so round about way it's just Lady Gaga courting controversy as even she knows there's nothing like quite challenging collective tastes in the fashion sweeps.
Choosing her words delicately, the pop singer offered the following:
'I am choosing not to comment on whether or not the furs I purchase are faux fur-pile or real because I would think it hypercritical not to acknowledge the python, ostrich, cow hide, leather, lamb, alligator, 'kermit' and not to mention meat, that I have already worn,'
'This should already put me in a category as one who appreciates and adores the beauty of animals in fashion, but am not a strict vegan.
'I have truly always stayed away from skinned fur, especially as I have never been able to afford a nice one, but this does not mean my morals are rigid and that I won't bend at the sight of an absolute art piece of a coat. I have no chains about this. '
'You see a carcass, I see a museum pièce de résistance.'
Then there was Lady Gaga's flower head dress that she wore at the Philip Treacy show which saw her nonchalantly sit front row with the designer himself (after opening the show) not once bothering to feign regard for the open looks her ensemble attracted. Then again this is London fashion week were one is expected to be somewhat outlandish and of course controversial. Yet let's not forget this has always been part of Lady Gaga's performance ensemble as she continues brining heightened attention to herself as she scurries to dominate the fashion landscapes and by default the musical domain….