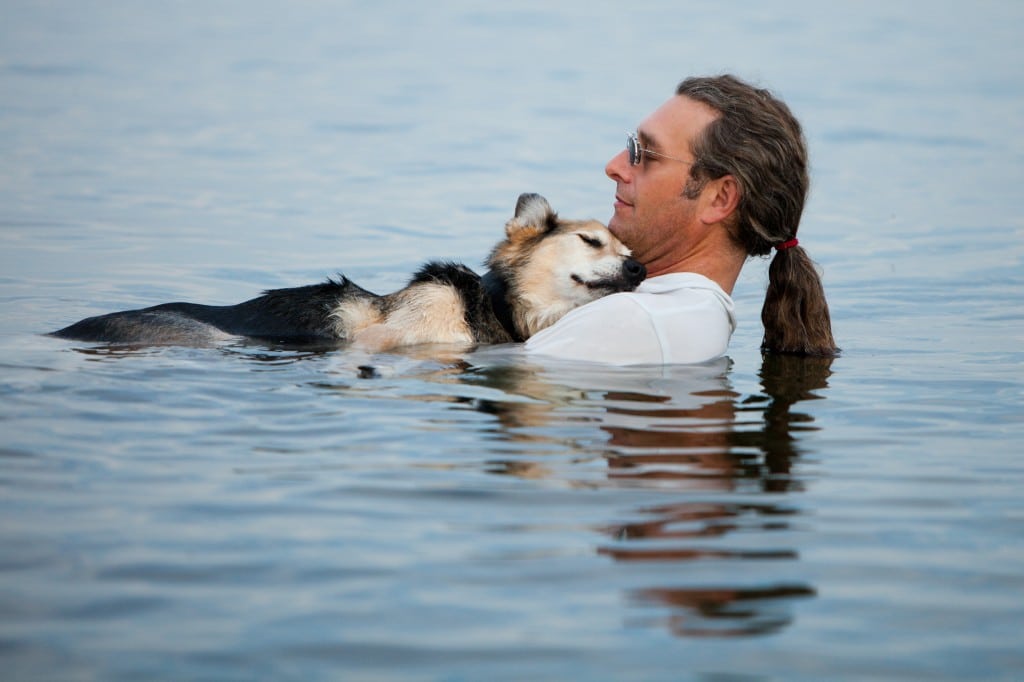 They say a dog is a man's best life, but it seems in one particular instance it's gone to the next level of life and death. Literally.
Since first adopting Schoep as a puppy some 19 years ago with a previous fiance, John Unger a Wisconsin resident and his pet who he named after a famous brand of Wisconsin ice cream have become inseparable.
In fact Mr Unger reveals that adopting Schoep literally saved his life as soon after he and his fiance split, the company of the dog helped keep him sane as it helped thwart suicidal thoughts that came from the split.
Come down 19 years later and now Mr Unger feels its his turn to return the favor to Schoep who has developed arthritis that is so painful that he can barely fall asleep.
To lull him to sleep, Mr Unger has been taking Schoep to Lake Superior, as water is deemed therapeutic for the dog's pained body. It was during one of these encounters that photographer Hannah Stonehouse Hudson, owner of Stonehouse Photography and a friend of Mr Unger's was inspired to capture the relationship between Mr Unger and Schoep.
huffpo: "This photo was from a last minute session," the Bayfield, Wis., photographer told The Huffington Post in an email. "We had been trying to get together for weeks, but it kept not happening because of my travel schedule for Stonehouse. We finally got together last Tuesday (the 31st). I had about 5 minutes to shoot and this is what I caught — a man and his dog. John loving his Schoep, and Schoep trusting John so much he falls asleep in the buoyancy of the water. This is in no way posed. I hate posed photos. They never, ever capture the true essence of anything."
Stonehouse Hudson decided to post the photo to Facebook, where she described the pair's loving relationship.
"This 19 year old Shep being cradled in his father's arms last night in Lake Superior," she wrote in the Facebook post, which has received more than 207,000 likes and 116,000 shares as of Wednesday morning.
For his part Mr Unger could never have imagined the great outcry of support (money has been raised to help with the treatment of Schoep's arthritis) that the entirely unintentional photo provoked.
Reflects Stonehouse Hudson: "I want people to identify with this photo, and remember a time when they felt safe, loved, and cared for. Then I want them to channel those feelings and pay it forward! There is way too much negativity in this world – maybe with this one photo we can start to change things just a tiny bit."
"John lives for this dog, and for the dog's comfort," she told HuffPost. "My mother has a saying, 'Everything is for the comfort and convenience of the Dog.' John is a prime example of this."
And perhaps this is the get, in some way Schoep has come to embody a period of Mr Unger's life that he treasures and is loathe to give up, he after all arrived in his life in the place of another who he had high hopes for and now Mr Unger like many of us in life faces the stark reality that his best friend, close confidant, symbol and abiding companion to his hell and back and all the other pleasures might no longer be there. Who will be there will be Mr Unger all by himself. A situation, a thought no one can barely ever admit to or desire.