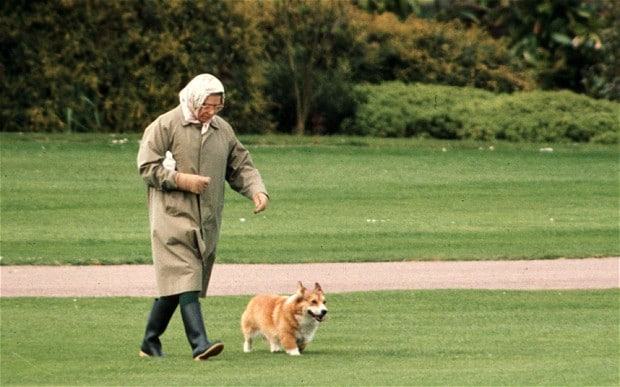 The Queen's corgi's would like to inform Princess Beatrice bixch terrier that its shit will not be tolerated thank you very much…
Oh dear, it seems the Queen's corgis have found themselves in a spot of bother recently after Princess Beatrice's terrier, Max tried to upstage one of them bixches to its utter disgust and dismay when it set out to visit the Queen and co at Balmoral castle.
So disgruntled were the Queen's corgis with Max, they plaintively tried to rip the unfortunate kvethch's ear off (yes the Queen has trained her troopers quite well thank you very much) and now as a consequence have so irked the Queen (yes your majesty, one should have manners at all times) that she has taken to keeping the corgis indoors as punishment.
Reports the telegraph: "The Queen's dog boy was taking the corgis for a walk and they were joined by the Norfolk terriers, which came with Prince Andrew," one insider told a Sunday newspaper.
"They were being taken along the long corridor leading to the Tower Door before being let into the grounds for a walk, and they all became overexcited. They began fighting among themselves and unfortunately the dog boy lost control.

"The next thing we knew there were horrific yelps and screams and it seems the corgis picked on Max.

"He was very badly injured and had to be taken to the local vet. There was blood everywhere.
Blood everywhere? How awful. One can only imagine the disarray and the horror forced upon the Queen. Then again the Queen's corgis always know better and whose who in the zoo and unfortunately despite appearances to the contrary, Princess Beatrice's little bixches will have to bide their time before they once again attempt to lay claim to the terrain where the corgis like to openly sunbathe and provoke the utter joy of the Queen….
To date a Buckingham Palace spokesperson declined to comment today….Indeed.