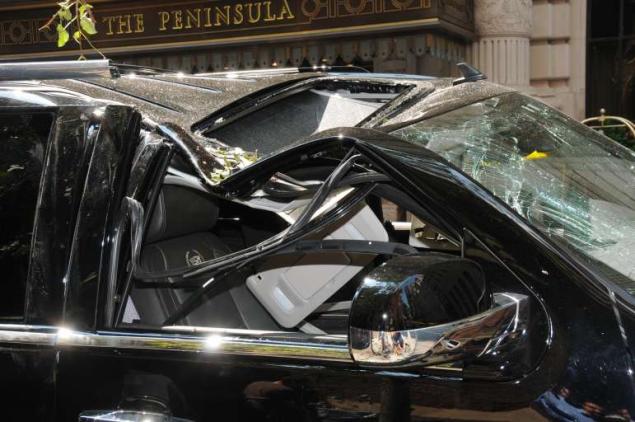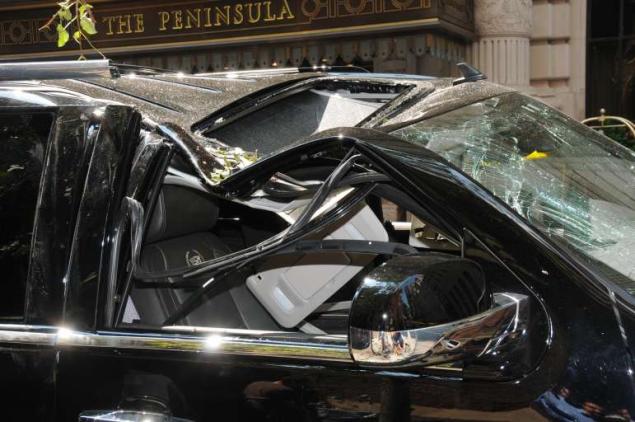 A 40 year old man from Florida plunged to his death from the sun deck of a 22 floor fitness driver. As fate would have it the man ended up plunging on top of Engel Nicassio's car in which he was sitting in the driver's seat having a cup of coffee as he waited for a passenger. That of course is when he heard a crashing boom and came to meet his new unexpectant deceased passenger….
The suicide is said to have happened circa 8.55 am yesterday at NYC's lush Peninsula Hotel on 5th avenue and 55th street.
Said Engel Nicassio who instantly ducked when he heard a sudden loud boom:
"When I looked up, I saw my whole passenger side was crushed in from above. I thought it was a construction accident or debris from a building."
It was only upon exiting the vehicle that he understood what happened:
"I was in shock. I had never seen a body like that, it was horrible. I just stood there staring at it until someone pulled me away."
'I was inside the vehicle having a cup of coffee and a bagel. I had been standing outside the vehicle minutes earlier. I heard a big bang,'
'Hotel security came over and helped me out of the vehicle. I saw a man's body. His body was separated at the waist. It was frightening, I can't believe it happened.
'God was on my side, if someone had been sitting in the passenger side something really bad would have happened, the roof dent is very deep.'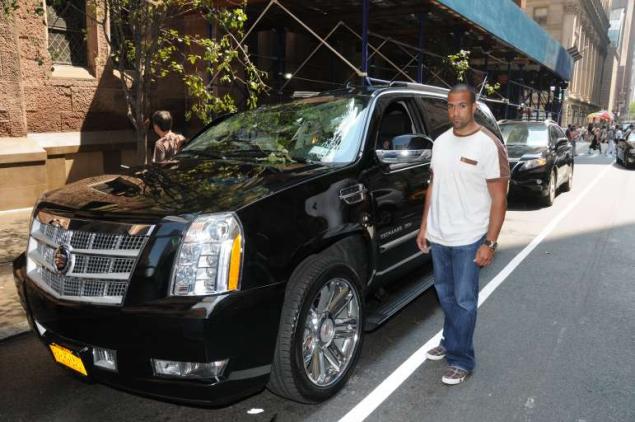 Said another witness, Armando Aiellano who witnessed the incident:
"The body [was] all twisted on the sidewalk,"
"It's terrible. He hit the car and then [fell] onto the sidewalk."
At present it is not understood why the individual jumped but it is known that he had tried to check into the hotel where rooms run $1000 to $4000 per night before being told there were no more rooms available. Nevertheless the man gave the front desk his credit card anyway before proceeding to the 22nd floor sun deck which at the time was closed.
Reports the dailymail: Once there he was stopped by a staff member who escorted him downstairs where he had breakfast.
The man ate pancakes and then ran back up to the 22nd floor, past the gym and spa and threw himself down onto the street.
He is not thought to have left a suicide note.
Such are the absurdities of life until you too realize that life is too absurd or unbearable to live….and then the feeling passes. Except when it doesn't…. Of course what's beguiling is the nonchalance of how the man returned to eat pancakes (probably mulling whether he would kill himself or not or simply having his last rites of a last meal). Even more beguiling is why he chose this hotel, or was it the allure of a glamorous death?