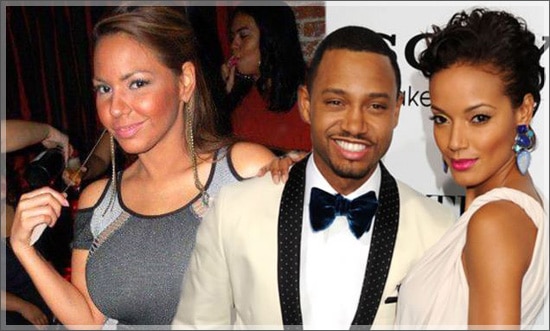 'Yo-don't you be trying to get fresh with my hawt bixch- bixch!'
Telemundo model Liza Irizarry has a filed a suit against Victoria's Secret model Selita Ebanks cause that bixch broke her nose whilst she went up to say hello to her man, BET host Terrence J inside a Miami nightclub last year.
According to Irizarry she had simply wanted to say hello to Terrence when she went to amiably kiss him on the cheek when a purported drunken Ebanks who was standing next to Terrence J reacted by telling Irizarry 'don't be kissing my man.'
Non plussed (cause when another bixch throws into question your friendship with a member of the same sex that is always the best way to react) Irizarry replied 'So what, that's my friend,' which led to Ebanks cracking Irizarry in the face with her fist.
Recalls Irizarry: 'I went to swing back — that's when all her friends jumped in. I felt hair pulling and fists coming at me."
By the time Irizarry came to she found out after returning to NYC that she had suffered a complex nasal fracture and nasal obstruction that required surgery.
Says a pissed off Irizarry:
"I'm so angry, because she thinks she can get away with anything. You shouldn't be allowed to put your hands on anyone for no reason. Me saying hello to someone doesn't give you the right to hit me."
Added Irizarry's lawyer, Edward Steinberg:
"We think this is a very simple case of assault and battery by a woman, who maybe used her status and stature to feel like she could get away with something."
Ebanks lawyer,Paul Rothenberg responded by essentially saying bixch is wack and shit is without merit.
Hmm. Don't you wish you were a Victoria's Secret model who thinks they could get away with anything too? Never mind, bixches will be bixches. Personally I wouldn't mind the occasional woman or two beating each other up over me ….