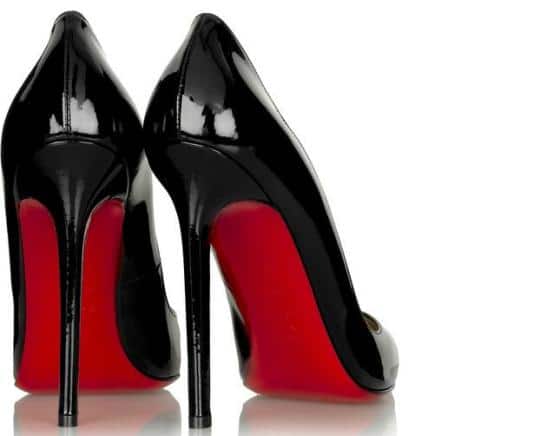 Learning how to survive in an economic upheaval whilst still looking upwardly mobile and of course utterly chic.
Did you know that the sale of red gloss paint in the UK has rocketed up by 40%. Do you know why? Let these poor vain women tell you why….
telegraph.co.uk: Wannabe Victoria Beckhams are buying red tester paint pots and painting the soles of their shoes to recreate iconic Louboutin heels on a budget.
Sales of red gloss colours such as Duracoat's 'Flame' and 'Show Stopper' have soared by 40 per cent compared to the same period last year and Homebase claim the surge is due to women copying the Louboutin shoes worn by their style icons which retail for up to £635.
Kids, I'm already running through my closet wondering to myself what shirts, jackets and ties I can add ribbons, splashes of bright whatever and a leather spigot (yes I am forward progressive thank you) to in order to affect my own upwardly chic look (yes don't become a writer unless you absolutely must).
Apparently the idea of painting Louboutin soles red arose in 1992 when the designer was looking for a way to differentiate themselves from others and to subtly of course alert other women that this was the real shit.
Of course now that we are living in a permanent basket case of economic dysfunction (except for you few hedge fund traders who did us in ) imaginative women are coming up with ingenious ways to stay ahead of the curve. Yes it's true, you will only be loved if people think you are rich, stylish and sufficiently clued in. Or is that just something we convince ourselves when we will only be loved?
'I received so many compliments at the wedding about my gorgeous shoes but I didn't have the heart to confess they were DIY fakes. It was such a success I plan on doing the same for another pair of heels."
DIY fakes. Oh my? I now have permission to go out there and live a fake existence? But until now I have being in a pathetic way enjoying walking around in my hole in the sole shoes. It made me feel that extra avantgarde. But maybe looking upwardly chic has more cache? What if I just spray painted my feet red that might work too?
Advises the telegraph:
If you fancy having a go yourself, a tester pot will set you back £1.59, though if you're planning on upgrading your entire shoe collection, it's probably more cost-effective to go for a 2.5 litre pot for £17.99 .
Hmm? Anyone willing to lend me the $25 US dollars I'm going to need this afternoon kids? And a slice of pizza while I'm at it too…oh dear.