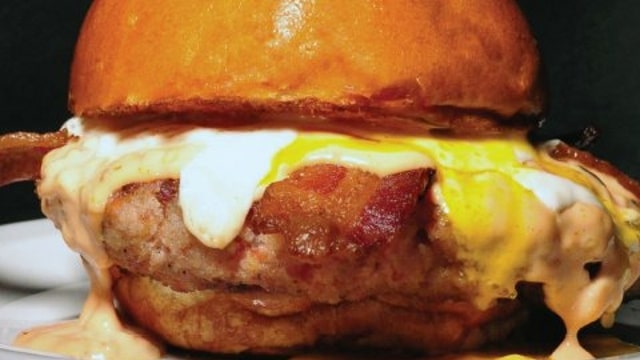 Kids, here's a new yummy concoction courtesy of Southern Californian burger joint, Slater's 50/50 that you should consider rushing your skinny ass (cause it wont be that skinny for too long) over to cause it's guaranteed to leave you in the yummy zone and in the head bleed zone all at the same time.
Called the  The 'Merica burger (yes my lips are trembling now too) Slater's 50/50 decided to introduce to delicacy in commemoration of Independence day. But thinking it was too delicious for it to only be served for one day, the chain decided to offer it for the whole month of July knowing full well that all of you gourmet types will be rushing to get your wet smack lips on the good shit.
Unlike most of the good shit currently being served at Slater's 50/50 ( they better send me a dozen of the 'Merica's after the amount of times I mentioned them already) this delight comes a refreshing 100 % ground bacon. Are your arteries choking right about now?
The good shit comes topped with a strip of bacon (hooray more good shit), bacon island dressing (holy mackerel your wet dream come true), bacon cheddar cheese (orgasm fast approaching kids) and for good measure a fried egg (kids I'm so bloody gooey and jittery, please airlift me to safety asp).
Of course the good shit is only available until the end of July cause there's no chance in hell you will still be alive to eat it in August.
Isn't it time you died a delicious death too? Only in Southern California bixches…