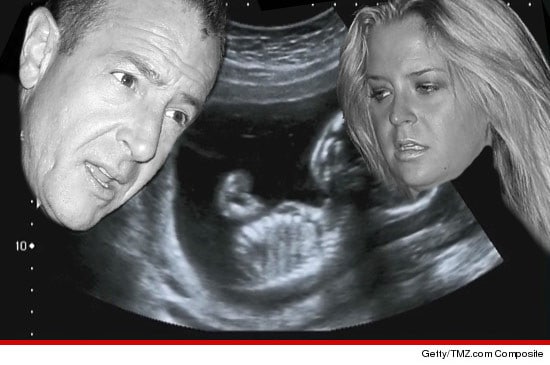 Kids it's time to rejoice as the jamboree club known as the 'Lohan fame trap,' is to soon take on a new member in the household. That's right, according to TMZ, Kate Major, on off bludgeon each other every other weekend boyfriend to Michael Lohan, daddy to Lindsay insanity Lohan is pregnant and in her third trimester with Michael Lohan's child.
Of course what makes the pregnancy so yummy is the fact that the child was conceived during a period when a restraining order was in place against Michael (it was only recently lifted) which suggests that our little munchkin to be can already attest to being scandal infused even before they were born. It hardly gets better than that kids. Then again this is the smack me upside down Lohan family we're talking about, your made to hire melodrama of pay day dysfunctionality.
For his part 52 year old Michael Lohan insists that 28 year old Kate Major was barging into his loins every chance she got cause she realized having a Lohan name ascribed to her was her way out of misery whilst Kate Major as recently as April was singing some song that Michael Lohan was a waste of life:
'I don't even want to give Michael Lohan any more energy.
'He is a sick, old man who I want NOTHING to do with. He is a liar and because I want nothing to do with him, he has been stalking me and I finally HAD to take action again.'
Of course if Kate Major can get a restraining against Milo and still get knocked up by her on and off love mess one has to wonder how long it takes the unborn child to seek a restraining order against its parents as they go about the messy task of being love sick and battered….?
As an interesting aside according to the dailymail, all Michael Lohan's four other children (damn he be busy), Lindsay, 26, Michael Jr, 25, Ali, 18, and Cody, 16 are said to vehemently dislike Kate Major, but really would you expect anything less?