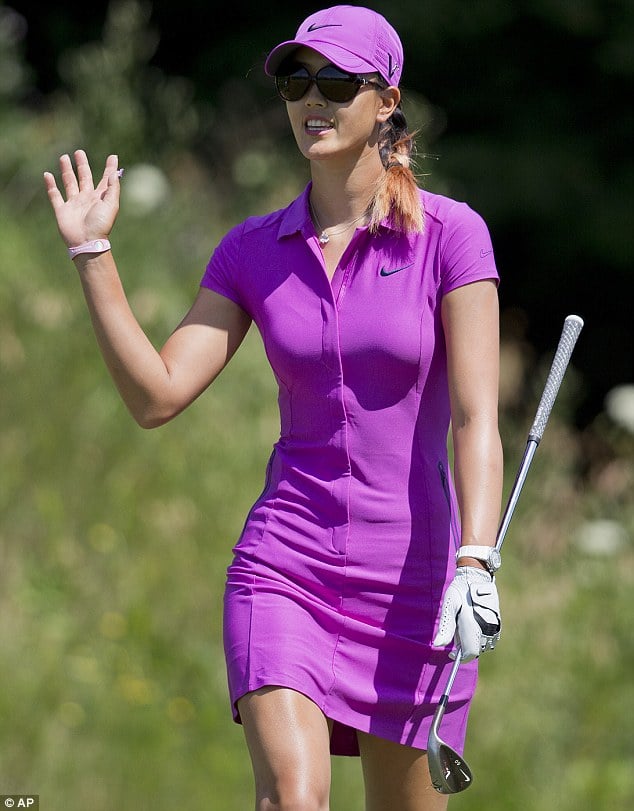 Michelle Wie will one day eventually be crowned US Open champion, in the meantime she will gladly take all the attention you care to give her. Why be reserved when you can wear a form fitting purple dress to show off one's slinky killer curves? How to play a real cut throat game of golf after all…
To be sure Michelle Wie at the mere age of 22 years old has already harnessed a reputation as being one of the world's best female golf players and a very ambitious one as well since she first made her presence known when she started playing the game as a teenager. Of course it doesn't hurt her, despite a professional grand slam title to her name that she's been repeatedly said to be the Tiger Woods of the female version of the game.
There over the weekend to play her hand at the final round at the prestigious LPGA event in Koler, Wisconsin one could barely fault the striking golf player as she set out to win the competition that is the pinnacle of the golfing world. Unfortunately for Wie who held herself in cool reserve she was unable to advance on her 13th position and consequently found herself after a series of misguided shots slipping tied at 35th spot.
That's not to say Wie hasn't shown much promise before:
espn: In 2004, Wie tied for 13th at the Women's Open. In 2005, she was in the lead after the third round but blew up on Sunday with an 82 and finished tied for 23rd. The next year, Wie also led after the third round, then shot a final-round 73 and tied for third.
She withdrew during the second round in 2007, a year in which Wie was criticized for pulling out of that event and another one. Critics said the withdrawals were more about her poor play than the wrist injury with which she was dealing.
In 2008 and 2010, she missed the cut. She didn't play in the 2009 tournament. Last year, she finished 55th.
Golf fans did not miss the buzz on Twitter.
"Michelle Wie struggling today. She's over 5 on the day through 7 holes. On a happier note, her Nike dress is sweet. Have to be uber thin tho," tweeted Beth.
"Purple dress proves unlucky for golf prodigy Michelle Wie at US Open Michelle Wie, who seemed confident that she was going to be crowned," tweeted Cindy McDonalds.
"It was one of the most frustrating rounds for me," Wie told the Orlando Sentinel.
"There are some things I need to work on, but at the same time this week was a definite confidence-booster for me," she commented Sunday. "Being up there in contention kind of got my juices flowing and kind of made me want it more. I felt what it was like again."
Since Michelle turned pro back in 2005 with a promising career ahead, she has never made the cut.
In the meantime fans will simply have to wait as Michelle Wie once again considers what her next angle will be and of course what new killer dress she'll get to wear on the grounds next time….