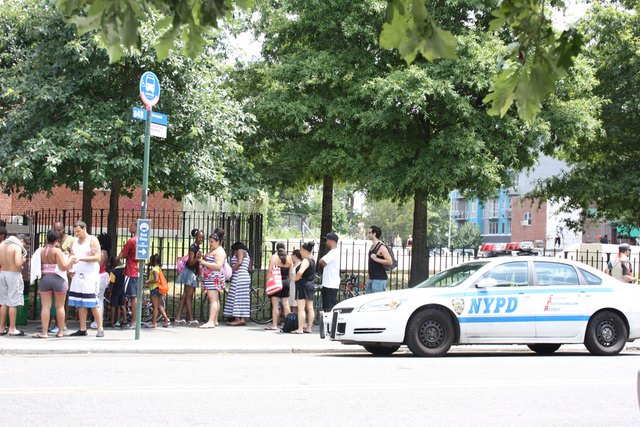 In less than a week, Brooklyn's highly anticipated return of McCarren Park pool has become a dreaded one. In the short time that it has been open physical altercations have erupted leading to the injury of 2 cops and a lifeguard.
nypost: The Greenpoint pool reopened last week with a splashy ribbon-cutting ceremony featuring Mayor Bloomberg speaking of its "illustrious past and bright future.''
But yesterday, hundreds of frustrated people were forced to stand in lines that stretched around the block as they waited to be searched by members of a force of 30 security officers that included 20 cops.
Searched by cops? Waiting in lines that stretch around the block? Isn't this suppose to be a community pool? When was the last time something like this happened at a community pool in Manhattan?
And then there were the altercations:
With temperatures flirting with 90 degrees yesterday, many got hot under the collar and took out their frustrations on the guards.
"I'm gonna come back and smoke your ass," a teenager ranted at a Parks employee who turned him away from the main gate. "If not me, someone else is!"
The worker claimed that the teenager had been part of a fracas earlier this week.
Re opened after being closed in 1984 because of city budget woes locals are wondering why from the beginning there has been such a degree of discord at the pool. In fact one 20 year old youth, Rodoldo Torres, one of three youth found himself being arrested after an altercation with police this past Monday. It's understood he punched an officer in the face.
gothamist: "It's unfortunate that there are a couple people, a couple bad tomatoes out there making trouble," an employee at Manhattan Ave sporting goods store BQ Sports told us yesterday (. "It makes it worse for the neighborhood. Back in the day, they had to close it down. I hope people realize if this continues, it's going to happen the same way it did in the '80s." She noted that the pool's re-opening had already given local business a boom—during our ten minutes in the store, at least five people came in to purchase mandatory locks for pool lockers. But the employee (who asked to remain anonymous) was concerned that the pool in its current state wouldn't be able to last. "I personally think it's a bad idea that it's free. If they charge, like, $5 or something, it'll help the city, help maintain the area, and help keep the bad apples out. I hope they don't close it down."
Interesting. So it's a case of the bad seeds (one commentator calls them gangbangers) of Brooklyn moving to the gentrified nice part of Brooklyn and behaving inapprpriately? Maybe part of the unease involves hipsters/yuppies locals unease with a branch of Brooklyn resident that it is not accustomed to or would perhaps choose not to get too accustomed to.
Case in point:
nytimes: The area around the pool has changed significantly in the past few years. Census data show that both the Williamsburg and Greenpoint neighborhoods, which border the pool, have had an influx of white residents in the past decade.
For example, in Williamsburg, which has attracted waves of artists in recent years, the non-Hispanic white population increased by 24,000 from 2000 to 2010, while the Hispanic population fell by 10,000. Hispanics now make up 33 percent of the 111,000 residents, with blacks representing 6 percent.
Some of the pressure on McCarren reflects the fact that the neighboring communities of Bushwick and Bed-Stuy lack large outdoor pools. On Tuesday, a number of visitors to McCarren were from Bushwick, waiting on a long line after the pool filled to capacity.        
Meredith Chesney, a local salon owner offered this observation after someone defecated on her doorstep as crowds waited to be allowed in.
"It's almost Machiavellian how our public administration thinks they can realize these grand ideals for giant public pools without real infrastructure, like bathrooms," she said. "It's really setting the public up to fail. It's very disheartening."
But not everyone is publicly worried by the hiccups.
Brooklyn Parks Commissioner Kevin Jeffrey had this to say:
"The few minor incidents have not impacted the vast majority of pool attendees, just as similar incidents at pools across the city don't stop New Yorkers from enjoying themselves."
So will you be dropping by McCarren pool for a swim later this week?