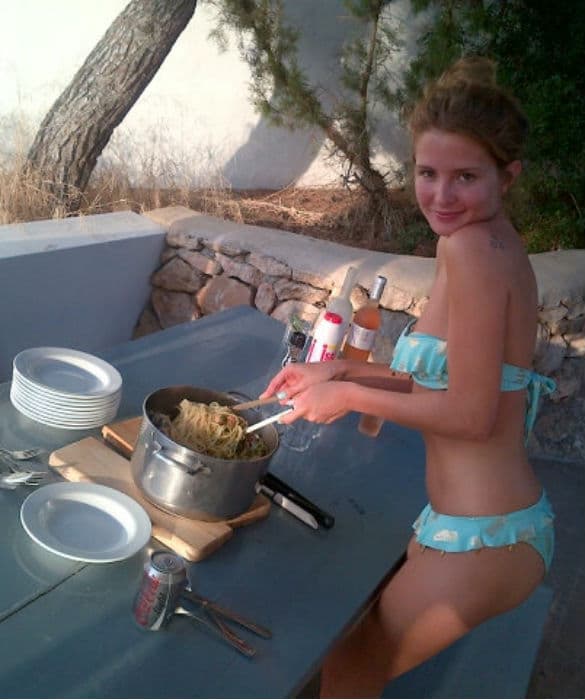 Made in Chelsea reality star Millie Mackintosh doesn't mind if you drill a hole in your eyeball in a fit of rage of jealousy….
Oh to be young, beautiful, rich and a household name- the acquired sensibility of none other than preferred media whore and upwardly mobile hawt bixch du jour Millie Mackintosh as she once again gets tongues wagging with the release of new images that show the starlet living a kind of existence that so many of us could be envious of. Especially those amongst you aspire to vacuous hedonistic experiences. Oh well…
There to support her rapper boyfriend, Professor Green in Ibiza, the heiress took to snapping pictures of that evening's feast, a fully loaded pot of creamy pasta whilst in a light skimpy bikini. Of course one has to wonder if Millie is having us on as she makes to pretend that one can maintain such a slinky figure (yes Millie I have already cut out one eyeball in your honor) whilst eating at such a huge dish. Then again one does notice the can of diet coke off to the side, which could really be her trick or maybe this was all just for Professor Green who must have needed all the energy he could get ahead of that evening's performance.
Tweets the slinky vixen (yes I do like you Millie): 'Just cooked my favourite dinner… Spaghetti vongole ?#yummmm?.'
(see another impeccably thin girl insisting she eats 40 000 calories a day t00)
Acknowledging that she is the world's most loved person who is always receiving a never supply of gifts, our Millie also tweets under the picture of her wearing her frilly bikini the following:
'Hi from ibiza!Loving my bespoke bikini made by @Aliya_Wilkinson.'
But alas Millie's stay in Ibiza was to just be a short one as within 24 hours she was back to London where she was once again resuming her vacuous hedonistic lifestyle forced to endure a horrid 24 hour wait before jet setting to another holiday destination.
Such are the lifestyles of the rich, beautiful, and much adored that you have no chance of ever experiencing…
I've also taken the liberty of uploading one of Millie's videos so you too can whilst away your day daydreaming about the existence you could have had too.