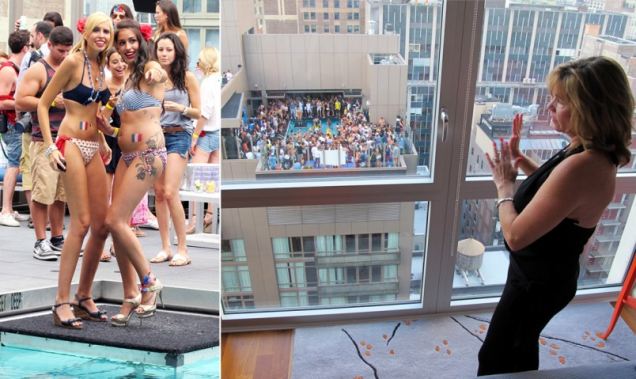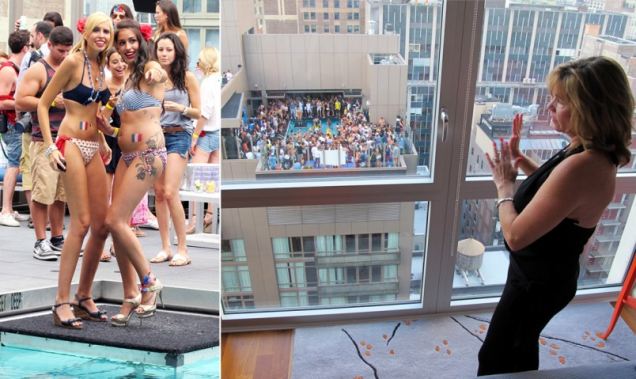 The locals are not very fond of Gansevoort Park Avenue Hotel's Sunday evening shenanigans revelry….
It seems the Gansevoort Park Avenue Hotel has managed to cause quite a bit of stir lately, first with revelers and now residing locals who can't stand the revelers, as the hotel's Sunday night afternoon/night parties have become the talk of the town.
nypost: "I try to not be home on Sundays. The last thing you want are a bunch of crazy people with loud techno music until 8 or 9 p.m.," said frustrated local Greg Housset, 24, looking down from his apartment Sunday at the mob of hard-partying revelers packed like sardines on the hotel's pool deck as turntable star DJ Chuckie spun booming dance tunes.
Poor Greg. Life must be tough staring at those scantily clad hawt bixches as they cavort back and forth on the roof deck in their nubile attires.
"Even when the windows are closed, you feel like there's a sub-woofer in your apartment."
Sub woofers in your apartment? That can't be too much of a good thing when one is trying to catch a sliver of peace in a bustling city like NYC. After all Greg likes to listen to classical music as he slowly drinks his Sunday afternoon chilled chamomile tea. I know Greg, I'm being bad, but have you ever had to tolerate Puerto Rican day parade every summer evening off your door stoop in the thick of Brooklyn? That shit would really make you flip, but what do I know I just look for a wad of paper to stick between my brain cells when that shit gets too overwhelming.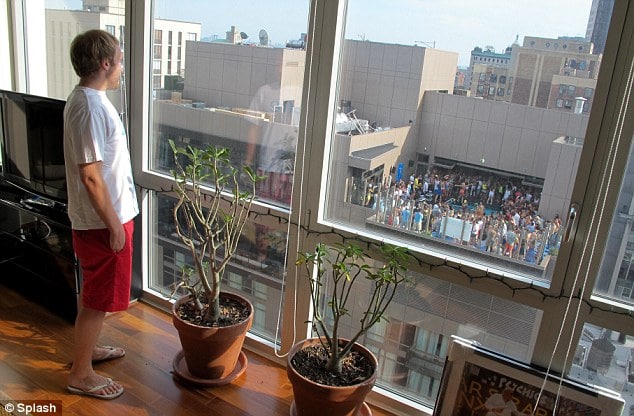 The Post goes on to report that Greg has complained numerous times (Greg is it alright if you supply your exact address so the dj so they can send you a conciliatory bottle of Veuve Clicquot ?) to 311 but to no avail. Who else has complained includes Mary Ellen Maher.
"The bass will start, and the windows will vibrate. The windows literally move,'' said the homemaker, 49, of the wild goings-on above the street. "It's like South Beach."
South Beach. That can't be too good for a homemaker in dire need of sanity. In fact it can't be too good for anyone in dire need of sanity, then again who said 23 year old boys and girls in giddy outfits clutching the 7th glass of the good shit have sanity in the first place?
This past Sunday, about 300 party people filled the hotel's 19th-floor pool deck — nearly five times the number indicated by an occupancy sign posted by the hotel — starting at around 3:30 p.m.
The city's Buildings Department has set the maximum capacity for that area at 54, even less than the 66 posted, a DOB spokesman said.
The posted capacity for the rooftop's interior allows another 200 in the enclosed bar and lounge, the agency rep said.
Kids, me thinks the hotel is skirting the rules a smidgen. What do you think? What you can't hear me? The music is too loud? Never mind I'll have another round of the good shit too.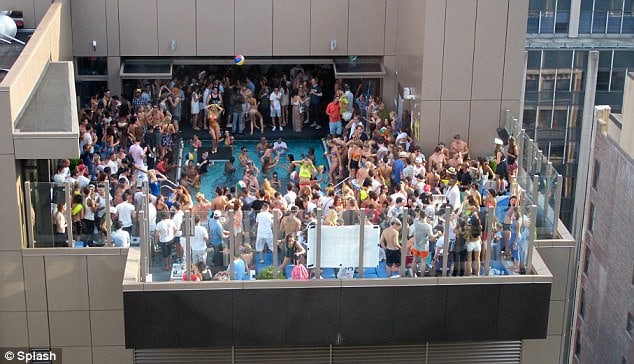 Neighbors said the lines of wannabe revelers stretch around the block from Park to East 29th Street through early evening — all hoping to pass a doorman's muster so they can fork over $2,750 for a table-service bottle of Veuve Clicquot Champagne.
But here's the part I like best. I knew I shouldn't have pursued a career as an underpaid tabloid hack.
Cheaper bottles go for $200 — but the well-heeled guests buy those only to spray one another, said pool worker Dylan Nowik, 20, of Bushwick, Brooklyn, who wore earplugs to work Sunday.
And what does the hotel say to all of the above?
But Kelli Carucci, food-service manager at the rooftop space, said the crowds hover at about 300.
"We try our best to respect our neighbors. We know that there are people who are at home trying to enjoy their Sunday,'' she said. "Some of the neighbors understand that we are trying to run a business."
In other words that bixch is making mad tips and he aint about to squander that shit because poor Greg who's probably shelling a cool $4000 to live in a nearby one bedroom apartment can't sit and think straight.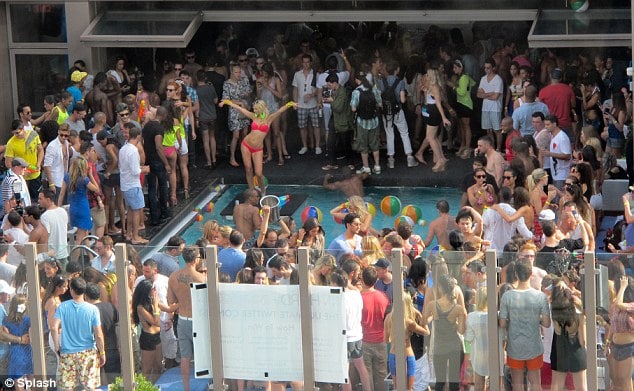 Despite the fracas the hotel insists that locals are party poopers (see Greg, look at what you did now!):
Offered a hotel rep:
"At the Gansevoort Park Avenue Summer Series, ample security is provided, ensuring a fun and safe environment for our guests,'' the rep said.
"To date, we have had zero safety incidents.'
Greg is there a bow and arrow in your house you've been meaning to try out lately?
In the interim law enforcements have offered that they will be monitoring the parties on future Sundays checking for excessive noise and other rowdy behavior. Let's hope that the hotel doesn't forget to send Greg his complimentary $2750 bottle of the good shit this time….