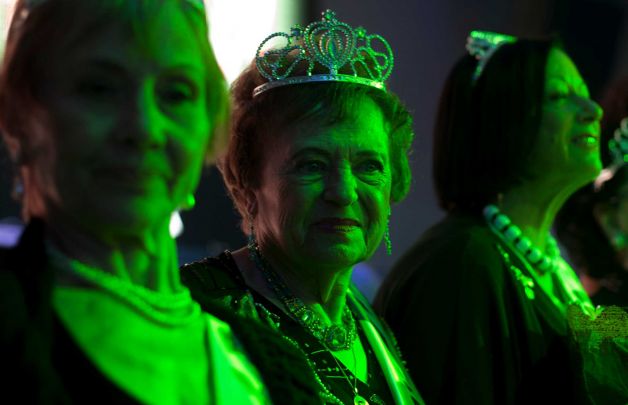 Have you ever thought about becoming Ms Holocaust survivor? Surely for the few of you holocaust survivors out there that thought has been looming in the back of your mind since way back in 1945. Or has it? Well actually it seems it might have been the case for 300 women (whittled down to a proud 14 women) who vied for the honors in Haifa, Israel yesterday.
The youngest contestant was aged 74 and the oldest 97. Billed by organizers as a celebration of life, the event stirred controversy. In a country where millions have been touched by the Holocaust, many argued that judging aging women who had suffered so much on physical appearance was inappropriate, and even offensive.
"It sounds totally macabre to me," said Colette Avital, chairman of Israel's leading Holocaust survivors' umbrella group. "I am in favor of enriching lives, but a one-time pageant masquerading [survivors] with beautiful clothes is not what is going to make their lives more meaningful."
Offensive? Macabre? Why? It has been a long time since the Holocaust, a gut churning grizzly indictment on humanity took place. It might not be the first thing that comes to ones mind, then again it does on some level open the idea that one can rejoice in boundaries that once limited us and accept the beauty of the human spirit under any guise. At least that's what pageant organizer Shimon Sabag may have thought as he sought to deflect criticism of the event.
"They feel good together. They are having a good time and laughing in the rehearsals," said Sabag, director of Yad Ezer L'Haver, or Helping Hand, which assists needy Holocaust survivors and organized the pageant.
"The fact that so many wanted to participate proves that it's a good idea."
And what of the contestants themselves?
"I have the privilege to show the world that Hitler wanted to exterminate us and we are alive. We are also enjoying life. Thank God it's that way," said Esther Libber, a 74-year-old runner-up who fled her home in Poland as a child, hid in a forest and was rescued by a Polish woman. She said she lost her entire immediate family.
And then there were the thoughts of Hava Hershkovitz, a soon-to-be 79-year-old, who was banished from her home in Romania in 1941 and sent to a detention camp in the Soviet Union for three years.
"This place is full of survivors. It puts us at the center of attention so people will care. It's not easy at this age to be in a beauty contest, but we're all doing it to show that we're still here."
Wearing a glittering tiara, she was joined by her granddaughter, Keren Hazan. "I'm very proud of her because she's the most beautiful woman in the room tonight."
But not everyone agrees with the pageant's intentions. Point in case, Gal Mor, editor of the popular Israeli blog "Holes in the Net."
"Why should a decayed, competitive institution that emphasizes women's appearance be used as inspiration, instead of allowing them to tell their story without gimmicks?" he wrote. "This is one step short of 'Survivor-Holocaust' or 'Big Brother Auschwitz.' It leaves a bad taste. Holocaust survivors should be above all this."
He might have a point but then when you do the math, there are only 200 000 aging survivors in Israel left still alive. Perhaps it's a testament to the human spirit that one can accept (and one suspects that this is really what it is about) what has befallen a collective and rejoice in one's desire to go and acknowledge that yes one can bestow beauty upon oneself even if the thing itself where it is framed was one of the ugliest things that mangled the affairs of human construct.
via the uktelegraph