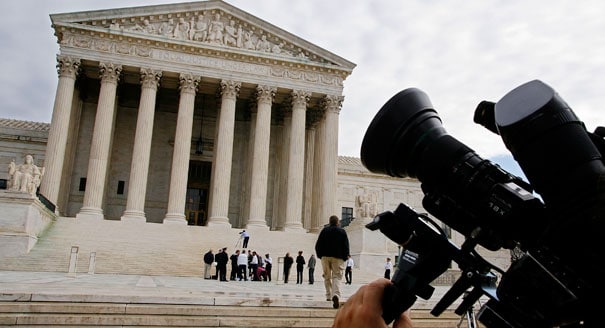 The Supreme court's ruling on Obama's health care plan will be announced this Thursday, reports Reuters. The ruling can have a direct effect on millions of uninsured Americans, as well as insurance, pharmaceutical, and companies with certain number of employees and the stock market as a whole.
Depending on how the ruling will go, the direction of the stock market will be determined for certain stocks and mutual funds. But the ruling may not be as straight forward as a yes it is constitutional or no it is not. The ruling can reject it fully, or partially with or without the mandate.
Each of these rulings can have their own consequences and will not be as a black and white defeat or victory for those involved. For example a mandated ruling may actually bring down the cost of insurance and move some individuals from company insurance to a public one where the cost is lower for them and reduce the cost for the company significantly. On the other hand provisions in the bill for some companies of certain size may  cause an increase in their cost and force them to cut back from hiring new employees. Or a lowering of the profits for some pharmaceutical, due to lowering of prescription prices, may get offset by an increase in the number of the drugs being sold.
But the one thing all should agree on is that uncertainty is nobody's friend. A final ruling will allow everyone to jockey into an appropriate position and  even if such ruling cause a big jolt in the market, the rule of one's loss is another person's gain will eventually balance the game. What will have even a greater effect on the stock markets this week than the Supreme court ruling will be the 18th uneventful European summit on bailouts, Cyprus being the latest and fifth European country to ask for a bail out as of this morning.