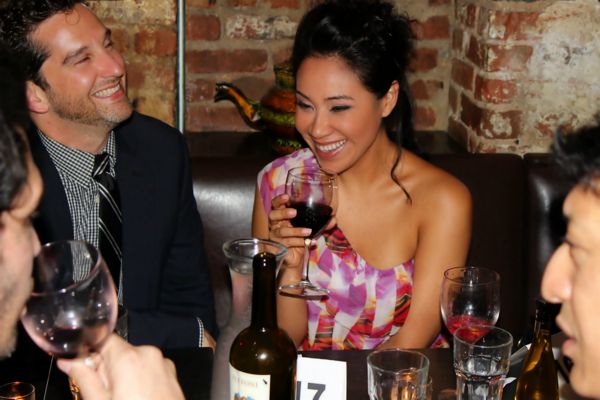 This past Wednesday saw a fine collective join MSNBC's Veronica De La Cruz at chic boite Grotto as they set about raising much needed funds for heart transplant patient Colby Salerno. The eating part was indeed a challenge, a delicious one which afforded this author to meet a gregarious bunch (more on how that worked, rest assured no scandal here kids). Thought the real eye opener was how the morning anchor came upon her cause.
Cause : On July 4, 2009, Eric De La Cruz ran out of time waiting for a life-saving heart transplant. Founded by Eric's sister Veronica, the Eric De La Cruz Hope For Hearts Foundation now provides financial assistance, educational resources, and advocacy for other heart transplant patients and their families as they face the daunting task of getting the second chance at life that Eric did not. Which introduces us to Colby Salerno.
SCV: What inspired Wednesday evening's endeavors and how did you come across the individual in need.
Veronica De La Cruz: The primary purpose of the Switch Benefit was to raise funds for Colby Salerno, a heart patient Hope for Hearts support, which would directly be used to cover his medical insurance and treatment for a year. Colby recently received a new heart- a new chance at life –  and has since needed assistance in making his recovery smooth. Hope for Hearts previously supported Colby when he needed to raise funds to afford the medical costs of a heart transplant, and when news came that he successfully got one , the foundation committed  itself to fully see him through his recovery. The approximate amount of money need to cover his expenses was about $6600, and with the help of our attendees, we managed to raise slightly more than that – exceeding our expectations!
I came across Colby's story on the local news. I was inspired by his can-do attitude and the fact that he had been living within four walls of a medical facility for months waiting for a donor heart and pounding out a blog called TALES FROM THE TENTH FLOOR, which was his funny and irreverent take on hospital life. He was 23 and wanted to continue living in order to pursue his dreams of becoming a doctor. He reminded me of my own brother, who was diagnosed with severe dilated cardiomyopathy at the age of 22, & I knew I had to help him.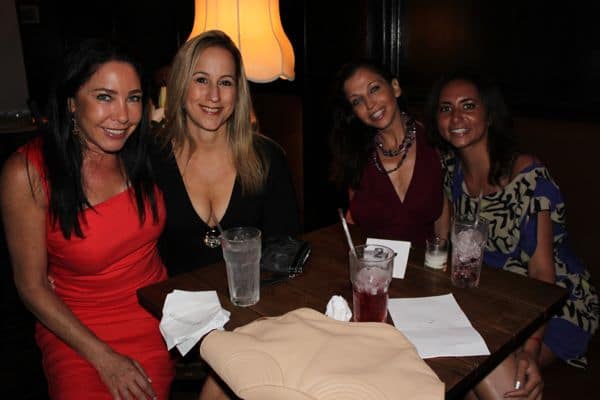 SCV:  How did the idea of the table switching come about and why did you choose to use it last night? 
Veronica De La Cruz: The idea of table switching simply came from the observation that at most events in New York, and in other places too, attendees for the most part either stick to the one or two people they come with, or simply socialize with familiar crowds. Thus, the concept of "Switch" spurred from the simple desire to have people interact with one another, and be placed in a position where they had no choice but to do just that! Switching tables wouldn't only be a great opportunity to network and socialize, it more importantly would create a space for intellectuals to share ideas, fostering growth.
I have always felt lucky to have some of the most intelligent, dynamic & charismatic friends and I kept asking each of them after that event, "By the way, did you happen to meet so and so?" After each person replied, "No", I realized that people in New York have a tendency to walk into a room, congregate around the bar yet only speak with the friends they might have come with. I wanted to change all that so I decided at my next event I would make sure all guests had the ability to mix and mingle, even if it was forced upon them . 
Needless to say this curmudgeon was forced to meet the stellar crew who each paid a tidy sum to be present:
Included guests included: In terms of the guest list the event was hosted by MSNBC/NBC anchor & Hope for Hearts Founder Veronica De La Cruz, MSNBC's Richard Lui, CBS's Steve Overmyer, Executive Director of Chanel, Greg Schmitt, Lisa Singer and Brandon Yankowitz. Guests such as Broadway's Angel Reed, Wendy Diamond, Michelle Javian — founder of Harboring Hearts and publicist Mario Ruiz formerly of the Huffington Post, as well as socialite Cass Almendral of CassWorld.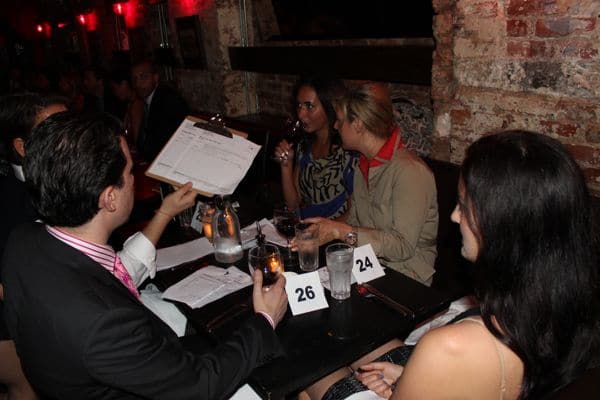 And for those curious to know what we all got to feast on, see below. Simply too yummy. I of course had a whole tiramisu to myself, but that's our secret.
Insalata Di Mare
Rigatoni al Ragu
Pesce Al Forno
Piatto di Formaggi
&
Tiramisu
Finally, reports Veronica: I have received lots of terrific emails from attendees thanking the organization for putting together such a fun, inventive and charitable evening. 
Indeed it was a stellar evening and I'm so glad that Colby Salerno received a donation large enough to allow him to spend the next year recovering from a  a successful heart transplant operation.