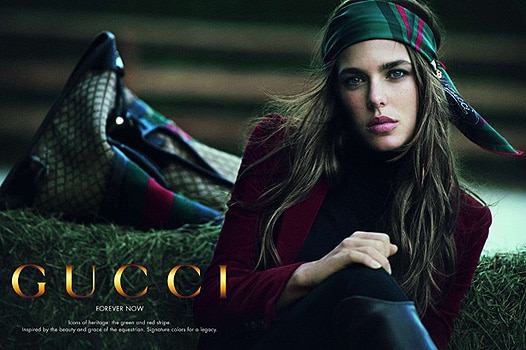 This weekend in the NYT's style section the Times makes an effort to portray Charlotte Gasiraghi the obvious heir of good looks, sophistication and good table manners as an independent spirit onto herself. Of course what betrays the article is the conundrum of Ms Casiraghi herself who is adamant that she is the play toy of good breeding, style and grace because of her own charms not because of her attachment to the Grimaldi scion which she heralds from (she is the 25-year-old daughter of Princess Caroline of Monaco and granddaughter of Princess Grace of Monaco).
In other words it's a tale of a rich girl who wants to be recognized for her accomplishments on her own terms despite the fact that the only real reason she gets any significant press or attention (and of course all those Gucci dollars) is because of the connections her family lineage has brought her. Bitter you may think, but such is the way of trust fund babes who wish to shake free of the society that have allowed them to flourish in the first place.
nytimes: Ms. Casiraghi's work seems linked to a desire to create her own identity and assert her independence from Monaco, a Mediterranean tax haven a little more than half the size of Central Park.
"She has an opportunity to step out into real life and say, 'Oh, I'm here!' " said Peter Lindbergh, who photographed Ms. Casiraghi for the Gucci campaign and has known her and her family for years. "It was a big decision for her, to get out of the house and get involved with advertising."
Step out of the house and become an enigma…but of course becoming an enigma in popular culture comes with a caveat. A caveat that Ms Casiraghi isn't very comfortable with…
Just don't call her a model. "Protagonist" is the word Gucci uses to define Ms. Casiraghi's role in its campaign, entitled "Forever Now."
Ms. Casiraghi insists she is promoting only the Gucci "spirit," not Gucci products.
"I've always refused to associate myself with a brand," she told French Elle. The ad campaign "pays homage to the Gucci spirit, to 90 years of the history of the house, to our common passion for horsemanship. I do not represent any product or any collection."
Promoting only the spirit but not the brand? Is there a difference? Is Ms Casiraghi trying to elude the slip of being a media whore? And how does Gucci feel about their spokes model deftly trying to detach herself from their namesake, even if she is the face of their equestrian line?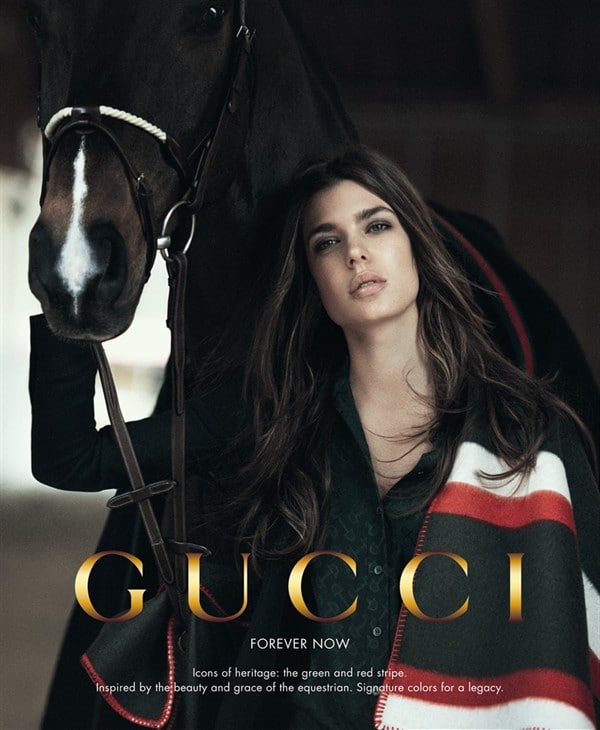 And the expose of the sophisticated rich girl continues:
She evolved into a competitive equestrian and a lover of expensive clothes and has dabbled in writing, editing and videography. She lives much of the time in Paris. She rarely talks to the press, and when she does, access is brief. (She declined through her representatives to be interviewed for this article.)
Which is to say if the NYT's can't get Charlotte to reflect on the enigma that she is, who can then?
And how she hates the press:
In January, the weekly Paris Match and three French celebrity magazines ran cover articles linking her romantically with Gad Elmaleh, one of France's best-known comedic actors, who is 16 years her senior. "The Amorous Weekend of the Princess and the Humorist" ran the cover headline of Paris Match. One photo showed Ms. Casiraghi, in sneakers and without makeup, ostensibly leaving his Paris apartment on Sunday afternoon, the day after she arrived.
Ms. Casiraghi sued the magazines, not only in civil court but — in an unusual step — in criminal court as well.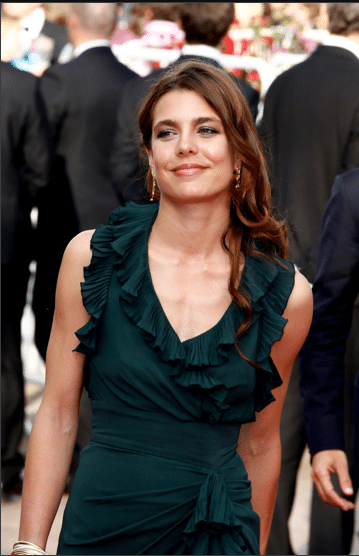 And then there was this interesting comment pursuant to an earlier article we wrote about the Grimaldi family:
Advice: Research before you open your mouth so you don't look like a moron. In addition, after reading my post, you need to issue an apology to the Princely Family. A public one as this article is totally disrespectful and demeaning to them. If this were printed in Monaco, you would be jailed for it.
1. Monaco is a PRINCELY family, not a royal one. HSH…not HRH. Totally different.
2. Pierre is not legally a prince. His mother is a princess, but he is not a prince. In Monaco, titles are a favor from the prince, and Princess Caroline, being second after her brother, asked her father not to title her children to give them "semi-normal" lives. He is Pierre Casiraghi. Prince Pierre is his great-grandfather.
3. It IS a private affair, as Pierre is not legally a member of the Princely Family, as he isn't titled. In his sister Charlotte's words "I'm just a private citizen of Monaco who has more responsibility as the niece of the sovereign." Private citizen=private affair. Just like any one else.
4. Way to report OLD news. The incident was in February. LET IT GO.
Nevertheless Ms Casiraghi does realize she is mortal and that money, the great equalizer does come into play. Never mind if she is aloof to public exposure:
nytimes: According to Stéphane Bern, the French celebrity journalist who has covered the principality and its first family for years, Ms. Casiraghi offered to participate in the campaign because she needed money to support her horses.
"She has absolutely no interest in being a model, she's much too intelligent for that," Mr. Bern said. "But competing in horse competitions costs a lot of money. You have to transport your horses one day to Dubai, the next day to Spain, pay for their care, the trainer. Gucci helps by writing checks with lots of zeros."
Lots of zeros. Yes such is the bitter awkardness of life. To carry on like a trophy girl without admitting to the fact her homage is a product of being an extension of a trophy brand, not irrespective of it. But at least we can agree on one thing, Ms Casiraghi does make a delicate wall flower in Gucci….