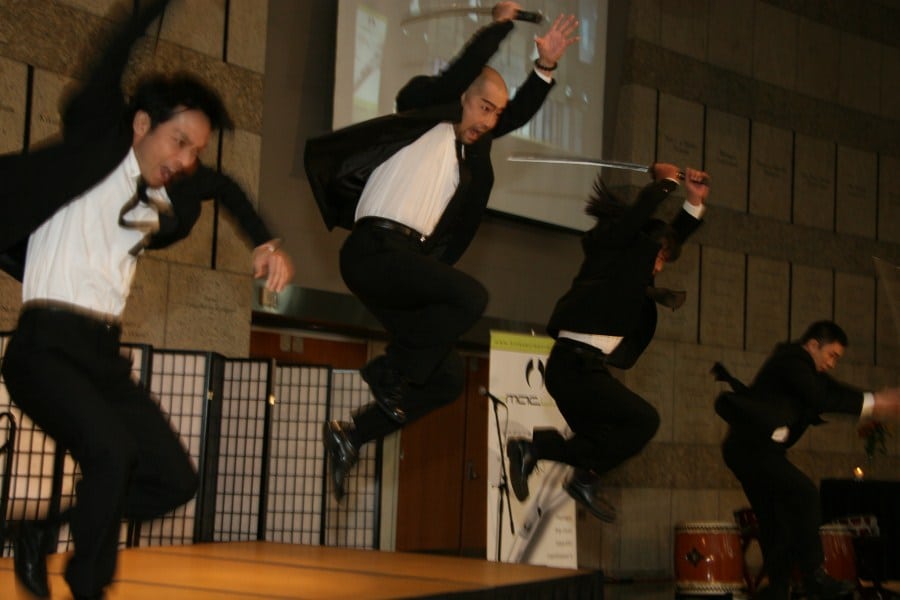 Cutting hair it seems is an effortless process. All one need do is find a hair dresser they trust, make an appointment and literally hope for the best. Of course that is an illusion being put to the wayside courtesy of Japan's Bmac Scissors who in Japan alone since the early 80's control almost all sales of precision scissors that make up the necessary tools of the best and most sought out hairdressers. Yet as I soon found out one afternoon coming up with the necessary tools of the best hair cutting scissors in the world is more science, craftmanship, research and a smidgen of attitude that I could have ever envisioned.
As I sit back and watch a benevolent Sen Yamanaka, Bmac USA's president describe the process to me I am startled by the intense commitment that could ever go in to creating the perfect necessary tool in the world of appearances- one's hair.
Weaving his hands back and forth, Sen describes the process from which the seminal blades are constructed from.
'It's slices and dissects and rotates back and forth all at the same time. It's a continuous fluid motion. It originates from the times of the samurai who needed the best blades as he created his mark.'
He again pulls back and shows me the sliding and slicing.
'It never drags, it rotates back and forth. Fluid. Clean, smooth and very deliberate. The most precise haircut you will ever have in your life.'
Of course I'm hardly thinking of grooming hair but effortless falling heads on an ancient battle field. Once again I politely smile and marvel at the complexity that such an apparatus could possibly command.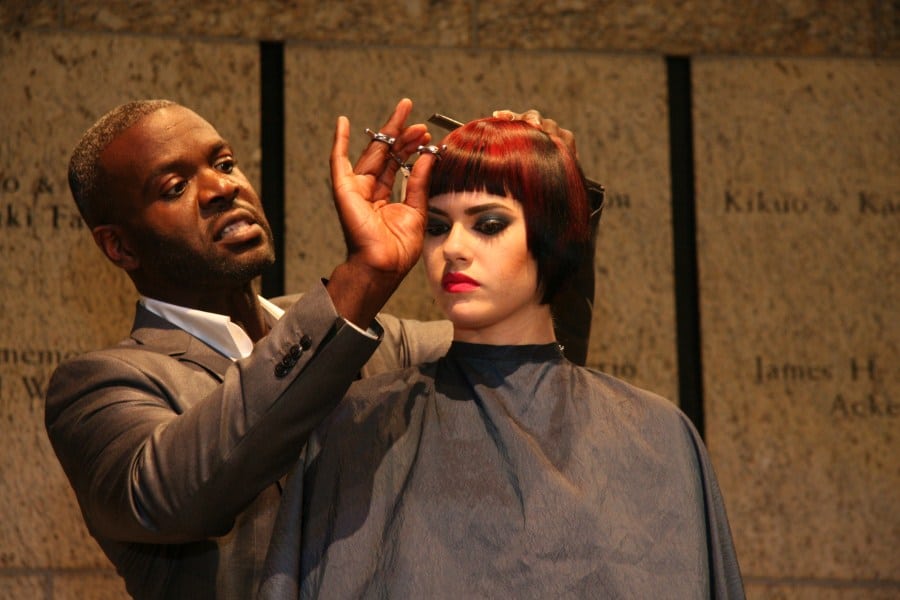 He motions forward to draw me what appears to be a ball bearing that for intensive purposes (yes- you can believe this is all patented) serves as an ingenious cantilever that allows for the fluid almost circular motion of the scissors who by now have become a must have staple in Hollywood.
A cursory regard of the price list of the shears at hand leaves me slightly aghast, but then again if one can pay $20 000 and upwards to tell the time more precisely and with effortless elan why then should I be surprised to learn that for certain masters spending up to $2000 for a pair of BMAC scissors is akin  to the blink of the eye.
'We make this in limited edition. And for good reason. They are all hand made and with the finest combination of metal in the world. These scissors will outlive you. This I promise….'
Curious I decide to send out some questions to Hector Rodriguez, famed Hollywood hair stylist and now Bmac USA's artistic director (after having conquered the Japanese and European markets, the brand is now well on its way to reign supreme here as well):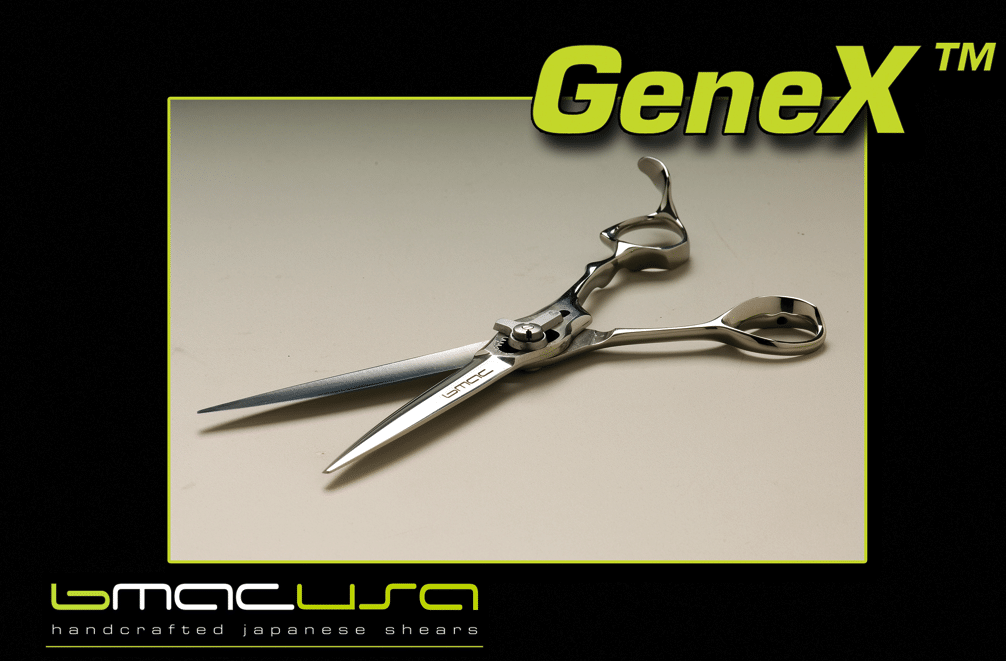 SCV: How important are the tools a celebrity stylist uses as opposes to the talent of the stylist himself?
HR: The stylists tools are very important, they allow our talent, artistry to  flourish or even push the limits. That said an artist can work with anything just taking longer to achieve the end result with less quality tools i.e. scissor brushes blow dryer's products. With crude tools you get less polished results  with refined tools you can achieve the look of David, by Michelangelo.
Great tools make it easy! 
SCV: Who are some of the customers/stars you have used the scissors on already? And do you think they knew they were using the new scissors?
HR: (Joey Castillo) from the queens of the stone age, Sasha Gray ,Gia Montania ,Trina Turk, fashion designer. The way the shears allow me to cut in a carving mode ,very seldom do I cut a straight line more cutting from the mid shaft of the hair out to the ends creating movement texture. Thus sometimes sparking conversation about the shear's I'm using, bmac.
SCV: Has the craftmanship and technology of the scissors themselves influenced the way you style hair now? If so, how?
HR: Yes the shear's advances of refined design and metallurgy has delivered a very sharp more consistent edge and a great tool to work with becoming an extension of  the hand ! And the ease of effort to achieve spectacular results,the shears have allowed my cutting to be  free flowing and precise all at the same time witch I believe is a good haircut. 
Both the spinning, silky and the flat contact point mechanism's are amassing a high precision flanged ball baring and a series of either disc shaped or resin packing are really fluid a ease to open and close, as opposed to the standard point of contact just a screw to nut or blade. Giving us less stress on our hands at the end of the day,week,month, year's.
SCV: From a 1-10 how would you rate this scissors and the way it has affected your styling?
HR: A 10 ! Stylists ask me were did I get these technics I use and I say every new shear we use opens up opportunity for new technics, the bamboo leaf blade has changed the my cutting on wet and dry hair allowing me to give a soft texture in hair as if we used a razor, but delivering a more  healthy cut then a razor, that is just one  example. 
The Genex is completely revolutionary the point of contact has a sliding gear type of support point witch draws the shear blade back witch gives the most precise cut with slightest effort ever in my twenty five years in the industry this is new!
SCV: The secret to be being a celebrity hair stylist is….???
HR: I own and work in a salon in Beverly Hills, California. Not necessarily just a celebrity hair dresser but a hair dresser that is in the top 10% of the industry the secret is to set the trends  and not just to follow them. We get bored of cutting or coloring the same so we try new things and want to see them different, or we bring back something old but with a twist!