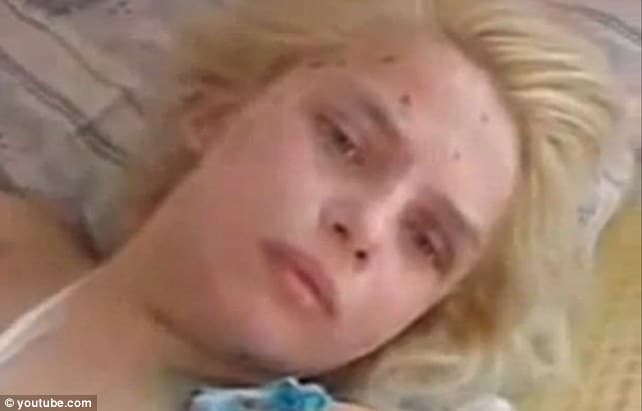 Mykolayiv,Uraine. The consciousness of a nation is put on trial as politicians, women's groups and locals ponder the savagery of one crime that casts reticence that women at the end of the day are still perceived as nothing more than sexual objects to be brutally disposed of without fear of repercussion.
Lying from her hospital bed after being at death's door, it is a testament to the spirit of the human condition that a 18 year old Ukrainian Oksana Makar has vowed that she will ultimately live through the tragedy that has beset her. This is as she looks on forlorn into the lens of her mother's video camera as she implores her daughter to voice her thoughts.
"I will. I will live on," asserts the mutilated daughter, her right arm visibly amputated, her head bloodied and bruised and her torso ostensibly mangled underneath the bed sheets.
This all after the youth on the 9th of March was gang raped, strangled, dumped in a ditch and then set on fire by three men that she insists did this to her now that she has slowly regained consciousness after reverting to a coma.
Urged to talk once again into the camera by her mother, the daughter who for many has come to symbolize misogynistic attitudes towards women in these parts cries: "I feel bad mother, real bad."
As a result of the fire the teen was stripped of 55 per cent of her skin and surgeons had to amputate her right arm as well as both her feet.
Questioned by her mother as to what punishment her attackers should receive the hapless teen replies their testicles should be cut off and fed to dogs. But this is hardly where the drama stops…
As a result of posting the video of her daughter online the girls mother has found herself on the receiving end of allegations that she is simply an opportunist whilst all awhile maintaining that she had no choice if she wanted to bring attention to her daughter's plight. Yet already allegations (perhaps as an attempt to ossify her case) exist that the mother has already used money raised for her daughter on herself as well as allegations that she has demanded fees from reporters.
Responded the mother: 'Look at me. Do I look like a rich woman?' on Ukrainian website gazeta.ua
The incident has in fact gone on to strike a nerve with the nation as it struggles to come to terms with the nature of such a heinous crime and what it suggests about the attitude towards women and the unsaid perception that they are disposable items to be collected and thrown with avarice away once plundered with.
To date there have been mass protests as locals and now parliament (should one be surprised?) insist on the death penalty for the three local men suspected of the crime. Who has also protested is women's rights group Femen who have been adamant about insisting on the full might of the law and protesting naked to make sure their point is heard.
Reflects the mutilated woman: 'I thought I would not survive. I could not feel my body. At first, I was screaming for help.
'But there was nobody there, I began to pray. I thought I had died. I remember it all as if in a fog.'
Underscoring the uproar that this crime, comes this from kviypost:
Mother of one of the suspects who confessed his guilt has recently tried to commit suicide, but was stopped by her other son. The woman believes her son is guilty and wouldn't leave her house.
Another suspect's mother has had heart attack after participating in Russian TV-show, talking about the case.
At present two of the three suspects have been released as authorities claim they do not have enough evidence (it is interesting to note also that authorities have been keen to hastily close this case despite the mother's insistence that her daughter can now speak)  to bring charges against them, throwing weight to Femen's assertion that once again women will always in this part of the world be perceived as second class citizens that one can do as they will to.
Says the wife of one of the suspects, which could in some sad way sum up a macabre attitude of the nation that has a history of being overladen in corruption and being slow to move in such cases in the past:
Maybe he was there, I don't know. Maybe it really happened, but why is everybody jumping all over him? The guilt can be spread around here, to all four people, including the girl. Why did she go there? Nobody forced her! Everybody is now saying that he alone is a monster. There are people that believe that this girl is not as saintly as she is made out to be. Maybe she provoked them.