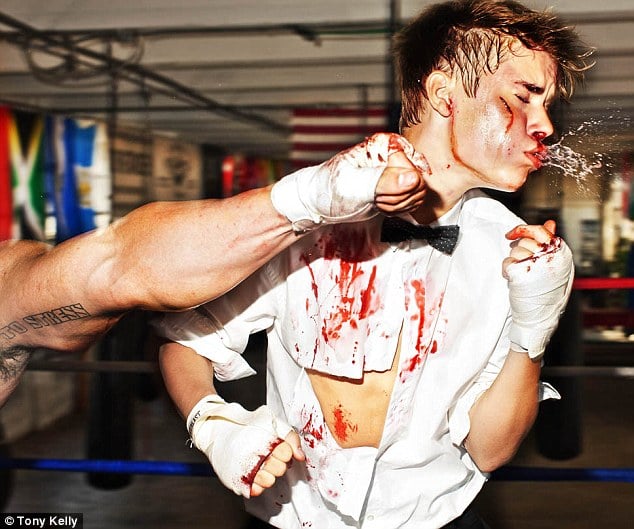 It's time to drool pockets of blood over your front lapel….
Kids, courtesy of Justin Bieber's imagination comes his latest foray into the impossible, invincible, manufactured and the totally pretentious. But never mind, this is just Justin doing what he knows best- show acting for the benefit of a manufactured camera pose. Which brings us to the latest excursion courtesy of Justin's pr department: a glamorized boxing ring starring the elixir of our collective wet dreams- Justin 'been there done that…knock them out and save the world while I am at it' Bieber.
dailymail.co.uk: Justin Bieber will no doubt shock fans with his bloodied, beaten up and tough guy appearance.
The 18-year-old Baby singer is seen drenched in blood as he's punch in the face by a burly boxer.
The image is just once of many incredible shots taken by world-renowned fashion photographer Tony Kelly for a stunning new photo shoot for Complex magazine.
Kids, I am as always frothing from my eyeballs, cursing myself for lacking the courage to spill red paint over my cheekbones for the valor of the camera man.
And the orchestrated bacchanalia continues….
Dressed in a ring master style outfit consisting of a white tuxedo shirt and black bow tie, Bieber is depicted as being hit hard in the jaw and subsequently spits out a mouthful of blood.
His shirt ripped and his face heavily bruised and bloodied, the teenager is held back by a bikini-clad ring girl as he readies himself to fight back. 
With injuries that would rival the most fiercest of boxers, a crazed-looking Bieber looks ready to rumble.
A crazed look could be the words to best describe the drizzle slopping off my lapel, my tongue a honey soaked suckle of the goods waiting to imbibe the blood stains off Justin's battered soul. Could the provocative afflictions of our collective hawt bixch be more pertinent?
If only we could all step in the ring and come out tattered and bloodied and still the recipe of a glamorous existence manufactured for any camera angle that keeps our collective tongue drooling.
Shouldn't you become a media whoretoo?