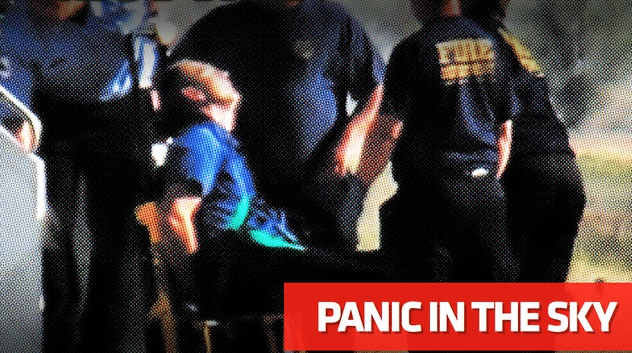 Jet Blue's Clayton Osbon said to be ranting religious sermons freaking co pilot out.
As the world settles in to digest the aftermathof one deranged man who nearly took down a JetBlue flight over the state of Texas in a moment of grand delusion questions are beginning to run through people's minds. So who exactly is this airline captain that was on the warpath to bring down a commercial jet liner and even more importantly why?
Well here's what we do know about our freak airline captain of Flight 191. His name is Clayton Osbon, he is 47 years old, has a wife of 6 years who hasn't wiped him off as loony tunes yet, and grandchildren. We also now know that he has been with JetBlue since the very beginning, back in 2000 and is one of the company's Flight Standards captains. Which is another way of saying, he is the captain of captains. Oh and one more thing: Clayton always wanted to be an astronaut….
foxphoenix: His father was an electrical engineer and used a plane for business.
"I didn't even know I wanted to do it for a living until the end of my sophomore year in college," Osbon said.
After obtaining a Bachelor of Science in Aeronautical Physics from Hawthorne College and Carnegie Mellon University, the Milwaukee native considered doing a stint in the US Navy to fund his flying dreams.
He had hoped the first step to becoming an astronaut would be flying F-14 Tom Cats.
"They weren't issuing any waivers, at the time, for eyesight, and they threw me out on the physical — on the seventh stage — for a slight astigmatism in my right eye. That broke my heart a little bit," Osbon said.
Instead he became a flight instructor and lived in France and Portugal for a time, flying the Gulfstream IV.
Now based out of Richmond Hill, Ga., Osbon was hired by JetBlue in 2000 as a Flight Standards Captain to fly its Airbus 320.
But here's something that caught this author's eye:
According to his profile on Linkedin.com, Osbon is also the director for Body by Vi, a wellness center which is "helping people to a better life through health and financial prosperity." His profile on the company's website says he is a distributor for the weight-loss program.
Hmm, somehow the idea of health and mental breakdowns on a passenger plane that you are flying don't go hand in hand.
Offers Christine F Lucas who profiled the pilot last year:
He spoke of a new passion for Wii games, particularly "Wii Bowling," and of his plans to take his 10-year-old grandson, Gabriel, up for his first flight.
"It's disturbing that something got to him at this level," Lucas said. "Everything that I saw makes this surprising … the conversation we had was about where life takes you.
So what gives? Work fatigue? Mental breakdown? Covert spy for some terrorist organization? The effects of being on constant meltdown watch thanks to the effects of post 9-11 or a man deeply unhappy with himself who decided that he wanted to leave a horrendous legacy of himself and a loud fuck you to everything that he had now begun to resent about being a master of the airwaves…?
At present Clayton Osbon has been remanded by the intimate care of the FBI…
Now woman arrested after punching and spitting at air steward for not serving her booze.
JetBlue Captain attempts to crash plane after screaming war cry to Al Qaeda and choked by passenger.