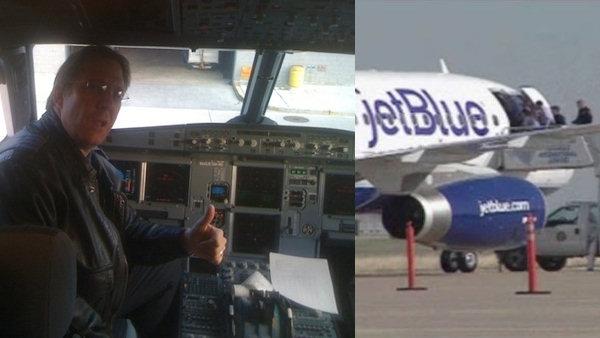 Clayton Osbon said to be the pride of JetBlue's fleet. No kidding.
JetBlue Captain attempts to crash plane after screaming war cry to Al Qaeda and choked by passenger.
Clayton Osbon is now a confirmed religious nut. So thinks the FBI….
According to a statement issued by the FBI, JetBlue Flight 921's captain Clayton Osbon's on board breakdown was the result of a religious mania.
What makes the report even more alarming is the fact that it is said before Osbon had his on flight meltdown he had begun shutting off flight panel instruments and declaring that the crew needed to take a leap of faith and that there were 150 lost souls on board before heading to the lavatories which at this point an alarmed co pilot decided to bolt shut the door behind him.
nydailynews: The affidavit, based on interviews with the first officer who saved the plane, an off-duty pilot who helped land it, and two flight attendants, says Osbon arrived late for the Tuesday morning flight out of JFK Airport.
"Initially, he did not exhibit any bizarre behavior," the document states.
"As they were climbing out of JFK, Osbon said something to (the first officer) about being evaluated by someone; (the first officer) was not sure what Osbon meant."
Osbon also mentioned his church and needing to focus.
Then he said "things just don't matter," grabbed the radio and "yelled over the radio to air traffic control and instructed them to be quiet."
Who is JetBlue pilot Clayton Osbon?: MyFoxDETROIT.com
Could this all be the result of a man too much on the edge, a man torn by his disgust for where he was heading, Las Vegas, the sin capital of America for the millionth time versus the pious God fearing man that he wanted he to be and would finally be with one flawless ode and sacrifice to the abyss known as God?
As of present Clayton Osbon is to be charged in U.S. district court with interfering with inflight crew members.