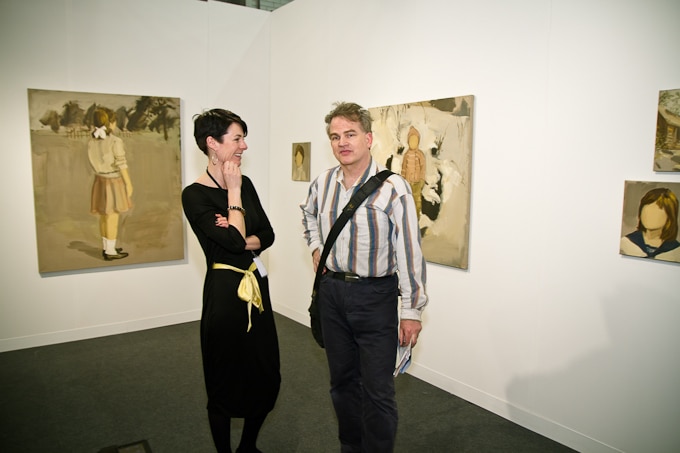 Armory 2012 has come and gone and unlike recent years this one was quite splendid and satisfying. Ironic considering that this time there were less galleries invited to participate (although one tranch of the exhibit space so a grand showing of some impressive Nordic art).
Said Paul Morris, the founding member of the fair: "Most notable is that The Armory Show is now a smaller, more boutique fair that enriches every experience for the many collectors, curators and guests who come to The Armory Show to see the greatest art from around the world."
Present at the fair which ran from Wednesday and to the general public from Thursday to yesterday, Sunday included a chic art crowd (but unlike past art crowds this one seemed to be more interested in the art at hand as opposed to each other), a smattering of intellectuals, collectors (you can always tell who's a collector by how conspicuously they go out of their way to pretend that they don't have any money) and a general smattering of art students, lovers of art and for once in a long while a smaller portion of ostentatious Eurotrash that normally come to swill their $15 champagne glasses and their small talk about some new club that they managed to get into the night before (yes Le Baron is the fave right now, not that I have bothered, yet…).
Some of the best pieces and galleries showing were edgy, conceptual and thought provocative. At one stage this author thought to take out his lighter with its missing top and put it alongside a piece of art and wonder if anyone would bid for it. As usual some of the highlights included Damien Hirsch skull prints that were going for a measly $10 000, Marina Abramovic's bed piece (In bed for human use) and as always Cindy Sherman who never fails to impress me.
In the end I predictably got dizzy and realized that I too needed a champagne to soothe my frayed nerves (good art work can work one up) but then I remembered that like most of the art work in front of me, that too was way out of my budget.
(Ken's images continue next page).