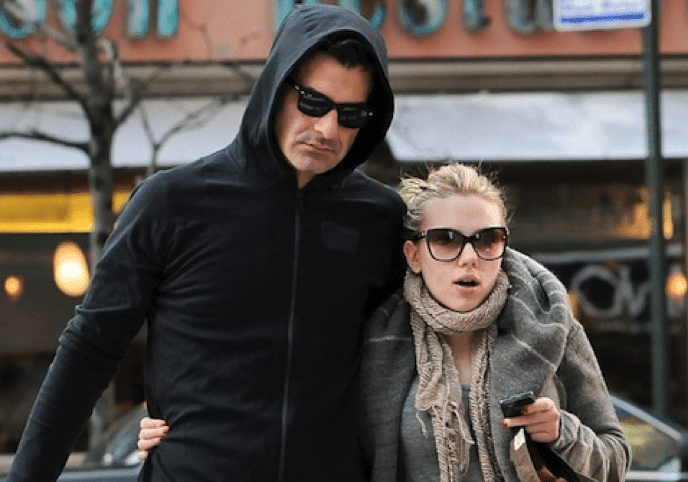 Kids there was a time when an actress could hope to live her life with some degree of anonymity. That of course was before the internet and the paparazzi came along to provide us with 24/7 regurgitated tales of our favorite high profile figures whose footprints were by now plastering themselves metaphorically on our bed sheets.
Everything about the actor was scrutinized and rescrutinized. Did they appear well dressed, happy, sad, loved, unloved, grouchy and was that a sliver of last nights blow on their upper lip?
Magnifying the dilemma of being a high profile actress is how one negotiates ones dating life. By proxy it is generally understood if you are a high profile actress/celebrity you generally only ever date other high profile types. Not so Scarlett Johansson, who for the first time since she has become a demi goddess in popular culture has chosen not another movie star to fall in love with but wait for it an ad executive, that you probably never heard of until today.
image via Billy Farrell Agency
That said, it's now time to acquiant ourselves with Nate Naylor.
gawker: He's an ad executive, "more artist than businessman." His website describes his job as "creative/art director" with accounts like Coca-Cola, Nike, Heineken, and Comedy Central.
Busy boy. Big accounts. Nate is definitely well accomplished and on his way up thank you very much. Which is to say Scarlett isn't dating one of those poor arty types. No siree. 
He has a Tumblr, which he updates often. Most recent post: video of punk band the Anti-Nowhere League.
Which is another way of saying that Nate is the consummate media whore, which whether Scarlett admits it or not must be the ultimate turn on given that she's a high profile actress whose name alone probably gets twitted 43 billion times a day.
But kids this is where it gets dicey and juicy:
Nate Naylor likes boobs, butts, and vaginas. Here are all the boobs, butts, and vaginas he posted on his Tumblr in the last month. Having seen this, I'm setting the odds for another ScarJo naked picture scandal at 3:2.
Boobs, vaginas and butts. Hmm, which is to say Scarlett must be very well adulated, right?
He is 38 years old, which is 11 years ScarJo's senior. Compared to the last guy, he's a spring chicken.
Ok, so Scarlett is dating older guys. Last old guy she dated, Sean Penn nearly turned out to be double her age, but then again that dating experience was an obvious cry for help and an all out mercy fxck for the a celebrity fxck.
He has a funny drunk face.(see above)
Funny and drunk is fine. Its when Nate is actually drunk and not so funny when things become messy. So far no public betrayals of either, yet.
(images and article continue next page)