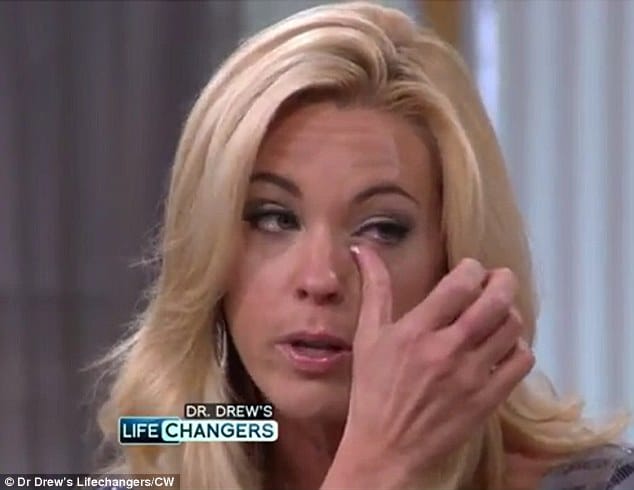 'I'm so lonely. All I want is a hawt bixch who will put up with me and my brood of 8 possums and replace the void once filled by my good for nothing ex husband….'
Kids, this article is specifically for all you out there looking and willing to give love. Love that will fill a canyon. Love that would leave a fully fanged media whore vanquished. Love that would have her tip toeing delirious into flooded sunny rooms. Love that will turn back all the pain and suffering that she has to endure, love that will smell like blueberry scented waffles sizzling in the morning.
A kind of love in short that is nearly impossible and too onerous to bear without, a kind of love that dear Kate despite the crushed rosebuds in her driveway still insists in and is very desperate to feel and straddle her soft permabraised cheeks against…
dailymail.co.uk: Since splitting with her husband Jon in 2009, mother-of-eight Kate Gosselin has relatively remained single.
While Jon has moved on by dating Ellen Ross since 2010, it appears that the only man in the 36-year-old's life is her faithful bodyguard Steve Neild.
In an interview on Dr.Drew's Lifechangers, the blonde reality star got tearful when he asked her if she had a love life.
Kids, let me intervene for a minute while we all collectively go looking for a dozen boxes of tissues to wipe our frazzled tears with. Yes Kate, we all understand your pathos. Yes, agreed there's nothing more frustrating than not having someone to nuzzle the self hate away. Yes Kate, nearly there, the chipmunks are ripping up strands of toilet paper as we speak.
Yes I know. This is your love life we are talking about and all I want to do is make sure the readers fully savor your dilemma. Yes Kate, I feel your pain too. Everyone in this room feels your pain. Yes Kate they're all crying. Yes Kate the tears are beautiful and heartfelt.
I know Kate you tried, but something went wrong.Yes Kate, yes, don't hold back. Let it all off your chest. Yes Kate, we are all here for you. Yes, Kate, let those crocodile tears sift down your face.
You have something to say Kate? Yes Kate, gladly, we will listen to anything you have to say. Yes even I am crying, the bullets of pain stripping me as I type these very words. Yes Kate we're all so desperate to hear you utter your next words…
'No. I'm too busy. I think a lot of my friends who are being constructive say "gosh, who are you going to meet that is going to be able to deal with eight kids?"' she said. 
'My answer is always if they can deal with eight kids in our situation it probably will be the person. It will sort of prove it.'
The busy mother said she craves a love life, but it's a struggle and she often feels incredibly lonely. 
'Absolutely! The odds are so against me, one mom and eight kids…so it would be great,' she said.
Oh Kate I'm quivering here with you. Dr Drew, really isn't there anything we can do? We can't just leave Kate there to fend for herself?! There must be some hawt bixch out there who is just dying to collapse into Kate's arms and whisper 'until love and collective self loathing bring us together…'
'I mean, I'm so lonely. I clean up the house, put the kids to bed and there I sit. 
'Ideally I would find that person…I don't know if I feel ready for that.
'I think a lot of people mistake that and think someone is going to come in and help you co-parent eight kids, how do you expect that? I don't. 
'I mean, I don't expect someone to come in and financially provide for my kids, I mean, they're mine, that's my job. So, just to have somebody there…'
No Kate! No! You must hold on. There is bound to be somebody who will see you for what you are worth. Someone who will shake and quiver when your eyes pierce their soul. Yes Kate there is someone out there for you. Yes, very wealthy!  It's inevitable. Divine. Just a matter of time. Talented. Yes Kate one day when you least expect it. Gorgeous beyond your dreams. He'll beckon unto you, your collective cheeks gracing numerous tabloid covers. Yes Kate, we are all praying for you here at home too…