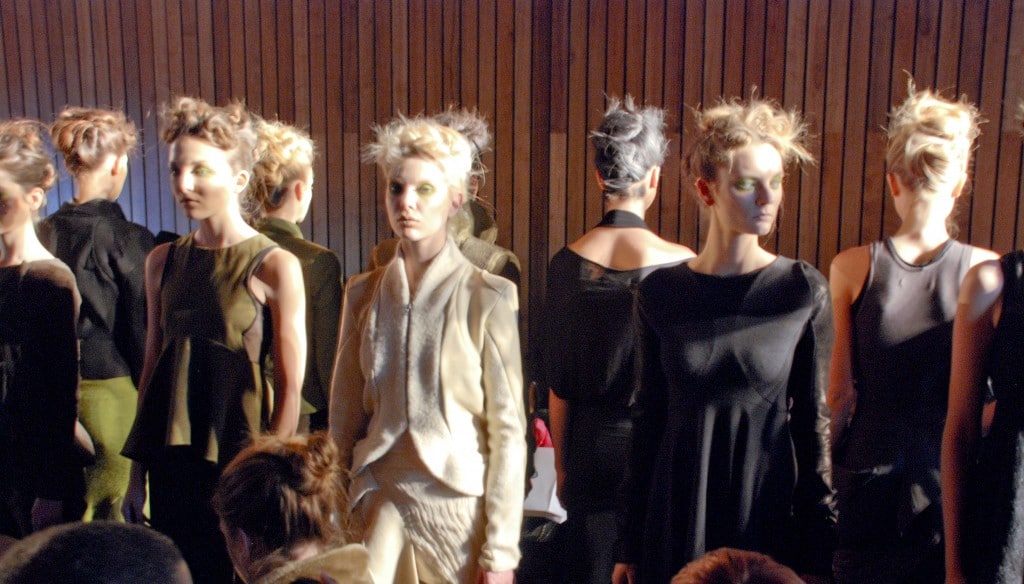 "The forest is a place the city cannot possess" perfectly describes KATIE GALLAGHER's F/W 2012 collection, Silent Soil. Every aspect of the show was taken into consideration for communication of this theme, most notably the set design featuring shaved black rubber on the runway and broken steel beams at its entrance. The music was equally as powerful, its consistent bass notes set an 'earthy' atmosphere. Attention to the show not only as a presentation but an experience was an artistic sensibility reminiscent of Poiret. Even without knowing the concept, one could feel the energy of the room and understand the message of the collection.
Each piece in the collection was beautifully executed, especially impressive considering the heavy wools and leathers used throughout- and that Katie makes each and every one herself. This level of technical skill is unusual at her age, and I greatly admire her dedication to the craft. You don't get this good by sitting around.
The muted color palette of creams, greens, beiges and black allowed for the extreme variation in textile textures. Ethereal sheer skirts mixed harmoniously with aforementioned hard leathers and thick wools. The shaved rubber under the model's matte black wedges added to the effect.
Katie has been known for her intricate leggings, and although there were many in this collection, I didn't feel it to be a primary focus. Each piece stood on its own, equally to the next- no specific category of items seemed to be in the spotlight, which added to the cohesion of the collection.
After the show, Katie shared with us some nostalgic childhood events that contributed to her inspiration "I just imagine the forest, I was always in the forest with my sisters. I touched a deer once. I got yelled at by my mom through the window, she thought he was going to maul me, " (Hailing from a rural area myself, I can confirm this to be a valid concern) she continues, "I also caught a chipmunk. My dad tried to convince me that he was sick, I brought him back and my mom fed him with a bottle… I have a lot of stories like this."
It's that kind of dialogue that Katie manages to communicate very well in her collections every season, and we look forward to the next!