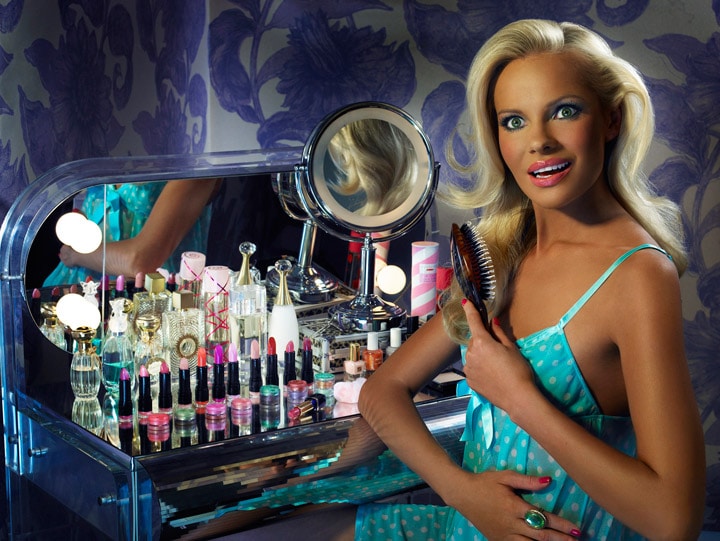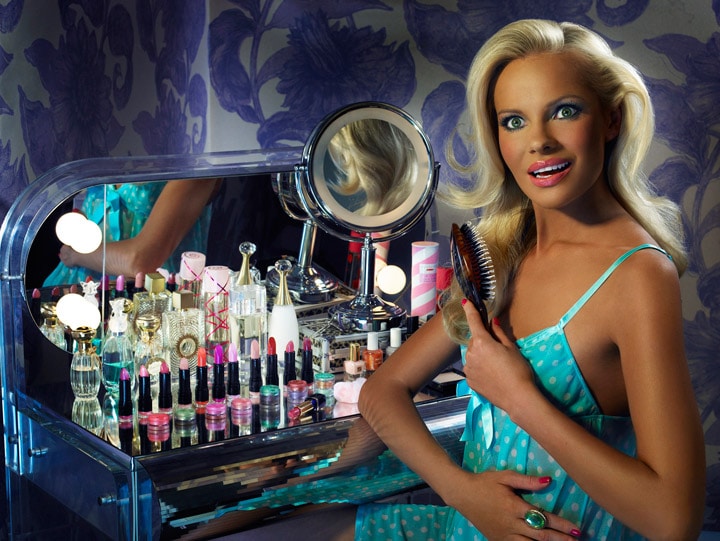 It was an ordinary day when I opened my mail and found an invite to a baby shower along with a strange little t-shirt with snaps on the bottom. This odd cloth thing was apparently an onesie and something babies wear. My only other encounter with one was when Peter Griffin on "Family Guy" put one of Stewie's on and referenced it.  I was expected to decorate it and then present it at a baby shower for a friend. The invite stated that bedazzling was "cheating." Decorate something and present it for all the world to see and judge my artistic abilities? To quote Tweet from South Park, "Too much pressure!"
As a kid, my relatives would give me crafty gifts like painting a My Little Pony figurine or a "Learn to Knit" kit. Each of these gifts was started, brought about tears of frustration and failure and finally ended up in the corner of the playroom that was sort of a landfill of my dashed hopes and creative dreams. I have always put this pressure on myself to make whatever the project is look like the example on the box. If I had a smudge on my artwork or it didn't live up to the box cover it made me feel bad about myself and left me sobbing that I had "ruined everything."
This sort of decorating event was just not my forte and it only highlighted the obvious which is that I really didn't fit in. I mean it's one thing to be one of the few women without kids in a group, but add the fact that I don't have an organic vegetable garden, DVR decorating shows, or put pictures of my home cooked meals on Facebook. Instead when I watch Giada, I wonder if I could toss a lemon Skittle in my canned soup to recreate her lemon chicken soup. The only pictures of food I post on Facebook are when I have an odd looking frozen dinner and I need public feedback to know if I am going to die from the funky looking mushroom in the half eaten meal I microwaved. It's bad enough when I get invited to "wife events" and am asked to bring a dish and I show up with a bag of chips and a jar of salsa (and no, not the organic home grown kind, the kind you get at Kroger), while everyone else brought a homemade lasagna or a cake.
For a while I had been able to fake it, pretending to like the Food Network, but it became more obvious my new group and I had different interest when Pinterest came along. Their boards consisted of "Crafts to Do," "Meals to Make," and "Ideas for the Home," while mine included "Celebrity Crushes: Past and Present," a whole board dedicated to purses, and my style board consisted of supermodels in couture and Princesses Letizia and Maxima wearing tiaras and killer heels. While the others chatted on Facebook and posted pics of dinner ideas they got from Pinterest, I "liked" yet another picture of Cristiano Ronaldo. Even our book choices didn't match up. They all read the latest blockbusters, while I reread The Bell Jar for the eightieth time. I've never owned a Nicholas Sparks book and am a little proud of that fact, so cannot relate to swooning over The Notebook. We almost bonded over the Twilight movies, but I only watched them because I like pale guys who wear lipstick. Even then I missed the mark being the only member of "Team Carlisle" and not the popular Edward or what's-his-face.
Sometimes I wonder if there was a pamphlet handed out about how to maintain a Stepford-ish life while being a modern woman. Maybe it was one of the days in grade school when I faked sick to stay home and watch soaps. While I was catching up on One Life to Live, everyone else was learning about how to perfect centerpieces, bake flawless cupcakes, and maintain glossy hair. They learned how to find time to exercise and make their own Christmas cards, while my boxed cards showed up some time after December 27th. The whole cooking and decorating thing wasn't where I shone and now this stupid onesie was here as a glaring reminder of my inadequacy.
I did try to come up with onesie designs. Best I could come up with was making it like a little baseball jersey with the child's last name on the back and a number two on it since this was their second child. I was good with that until someone pointed out that's what all the unimaginative people would do. I didn't own any paint pens and common sense told me puffy paint would only end in tears. Sequins seemed too involved and sewing anything was out of my league and probably punishable by law seeing as bedazzling was cheating.
So what to do? No clue. Knowing me, I'll wait till the last minute, slap some Hello Kitty stickers on it and call it good. And if I find out it's a boy? I could use the Hello Kitty froggie stickers. I'm fairly certain he's considered gender neutral. Or there is always Choco cat. She/he is sort of androgynous anyway. The David Bowie of the Hello Kitty world. But I'm not going to let a little white outfit with snaps by the fanny dictate how I feel about myself…until the next shower invitation comes along.