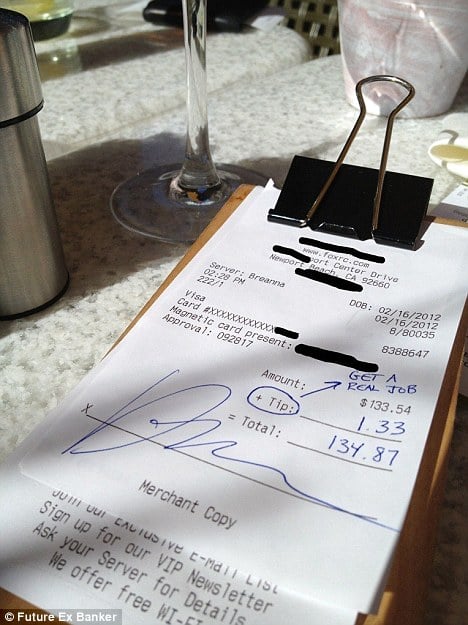 Hmm, here's a story making the rounds today: A son of a bixch banker leaving a one percent tip on a restaurant bill that came to $133.54. The story only went viral after his eating companion took a picture of the bill and posted it on twitter which caught the  attention of a food blog who posted a blog on the incident before removing the post later. Also causing furore was what the banker wrote on the bottom of the bill: 'GET A REAL JOB.'
Wrote the blogger originally: 'I work in the corporate office of a major bank for a boss who represents everything wrong with the financial industry.'
The blogger said that his boss will tip exactly one per cent of the bill 'every time he feels the server doesn't sufficiently bow down to his Holiness.'
'(My boss) has blatant disregard and outright contempt for everyone and everything he deems beneath him.
'On top of that,' the banker wrote, 'he's a complete and utter tool.'
Of course this all raises questions about what makes for good dinner behavior, what is an appropriate tip, why if technically if a tip is always at the customer's discretion why we still get unnerved if the customer leaves the waiter a bad tip and how perhaps this implies that in some way despite the hand wringing that it is not the case that we actually live in a class system that sees those who are well off behave in a condescending way towards those individuals who they perceive to be below there social rung, this despite the fact that most people in the service industry are often pursuing vocations if they pan out can lead to the sky is the fortune and the adulation by the same kind of customer who a little while ago may have unwittingly been rude. Then again maybe waiters wouldn't fuss about their tips if restaurant owners paid them a legitimate wage instead of passing the buck to the customer, even if the restaurateur like to tell you they'd be forced to charge higher prices for food. Well, guess what, they charge quite a bit for food as is.
The restaurant for its part, True Food Kitchen out of Newport Beach, California has declined to make a public statement except that it will do everything in its power to make it up to the server.