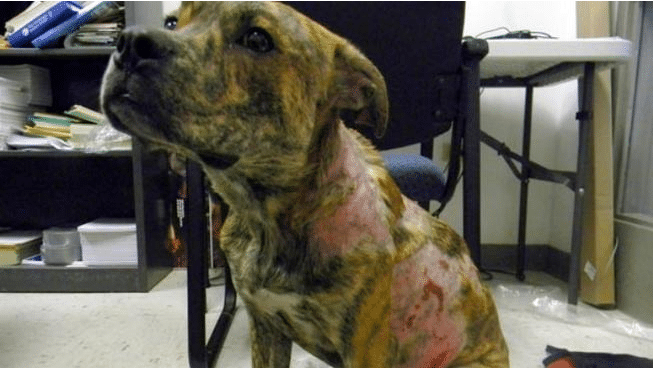 How not to treat animals…
A 20 year old college student, Kyle Voissem, studying (yes the irony is too palpable) criminal justice at the University of Illinois, has seen his initial charge of misdemeanor animal cruelty bumped up to a felony pursuant to an event late last year which saw him pour scalding hot water all over his dog after it peed on the floor. The dog, Byron, a one and half year old mountain cur mix as a consequence suffered horrendous injuries including second and third degree burns to its head and 50% of its body.
Mr Voissem was apparently making pasta for dinner when the dog inexplicably peed on the floor, leading him to then perhaps even more inexplicably to turn around and pour a pot of boiling water all over the dog.  Since the incident, Byron has been adopted by a new family after Mr Voissem turned him over to the Anti-Cruelty Society at a later date. It has also been said that Mr Voissem waited a full month before he took Byron in for medical treatment, which if true makes his behavior even more reprehensible.
Mr Voissem, on scholarship for gymnastics was initially suspended but now with the felony charge he has been asked to leave the university gymnastics team and is now being held on a $100 000 bail. For now Mr Voissem remains a student at the school….
** post script (3am EST) : For those of you interested I came along this petition that it seems led to Kyle Voissem eventually being charged with the full brunt of the law:
Mr. Voissem should be immediately barred from participating in any university-related or -sponsored activities or events, and the Head of the Department of Criminology, Law, and Justice at University of Illinois Chicago (UIC) should carefully consider whether Mr. Voissem is an appropriate member of that student body.
Please make all animal abuse a felony, and consider making it a Federal law as opposed to differing laws and punishments in each state.
Ultimately who can really understand what Kyle Voissem was thinking when he chose to act the way he did and the degree of malice he showed? On another note Kyle Voissem has taken down his facebook page. Can you guess why?