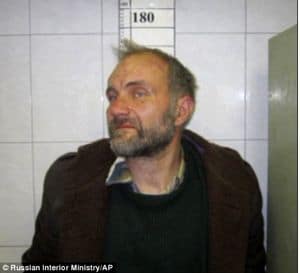 What drove one man to dig out female bodies and then shroud them in brightly colored dresses and headscarves in his living room?
Police in Russia are trying to make sense of one the most perverse crimes to date in the region of Nizhy Novgorod, 250 miles east of Moscow. It is said a 45 year old man, Anatoly Moskvin, a local historian would dig up the bodies of deceased women, desecrate their burial sites before dressing them up as if they were life sized dolls to idle in his house. In total police found 29 mummified female bodies.
Found at his house were doll making manuals, plaques from tombstones as well maps of local cemeteries (one supposes so he could continue scoring new members to his demented home life)
To date no reasons have been offered as to why Anatoly Moskvin took on his gruesome hobby (for lack of a better word) but it is said he a well respected specialist in cemeteries and has a Phd in Celtic studies which forces one to wonder if Mr Moskovin was trying to simulate burial rituals of Celtic culture or if it was all in the end a macabre denunciation of women (had women disappointed him in his personal life?) in its most perverse form, recreated to role play their existence in perpetuity a kind of static 'pre approved' deign?
Yet perhaps may what offer police clues as to what inspired this  course of action comes the following:
postchronicle: Just last month Moskvin wrote an article about a strange funeral he attended. He claims that when he was 12 he was at a funeral procession and the people at the event made him kiss the face of a dead 11-year-old girl. He creepily wrote in his Nekrolog, "An adult pushed my face down to the waxy forehead of the girl in an embroidered cap, and there was nothing I could do but kiss her as ordered."
Such are the convoluted affairs of one man struggling to come to terms with his own history…perhaps the ultimate irony in this crime given his tenure as a historian.