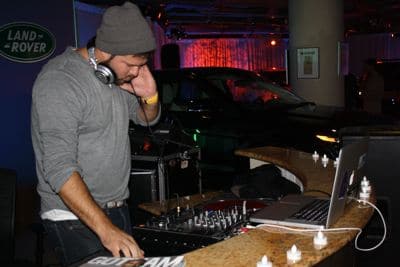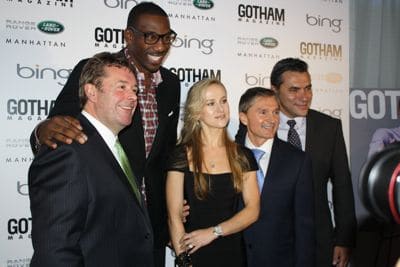 A car dealership… in Manhattan? Was my initial reaction when this California vagabond was invited to the celebration party for the October issue of Niche Media's GOTHAM Magazine and the launch of the all-new Range Rover EVOQUE. Impressed with the sheer amount of real estate that the LAND ROVER MANHATTAN, New York's premier and only authorized Range Rover retailer, occupies, I enter the party. Immediately, I find a cocktail in my hand, which materializes as if by magic from a gorgeous, towering brunette. "AVION Tequila darling," she breaths in my ear, "better than Patron," adding the last part in hushed tones as if divulging a secret confession.
With the spacious location, the white décor, the chic pink, purple and blue lighting, and of course, the sleek Land Rover Evoque, the party had Los Angeles-like flavor, with the spice of a well-dressed Manhattan crowd. New York's most eligible bachelors, including Andy Goss, president of Jaguar Land Rover North America, Lee Ellenberg, comedy writer, Zac Young, pastry chef, Steve Lacey, Good Day Wake Up, Todd English, restaurateur, Matt Rowean, CCO RJW Collective, Jeremy Snepar, VP of Mesa and Geoff Bartakovics, CEO of tastingtable.com were among the esteemed guests in attendance.
The evening's co-host, and GOTHAM MAGAZINE October issue coverstar, AMAR'E STOUDEMIRE, makes a dashing and well-anticipated entrance, fashionably late of course. The crowd hovers around the red carpet as he walks in, with the men flashing cameras and the women flashing smiles, both pushing past each other to snag a phone number second of his time. Looming high above his guests, Stoudemire graciously leans down to greet each one with a handshake and a warm welcome.
The New York Knicks basketball star steals the night, charmingly toasting the launch of the Range Rover EVOQUE alongside the New York's most eligible bachelors. As much as they try to deny it, we all know Manhattanites love to mix and mingle with celebrities as much as their fake-bleach-blonde Los Angeles counterparts. The crowd continuously buzzes with excitement from Stoudemire's arrival long into the night. This scallywag thanks Gotham Magazine and Land Rover Manhattan for delivering us an entertaining and star-studded night, even when none shined in the New York skyline.