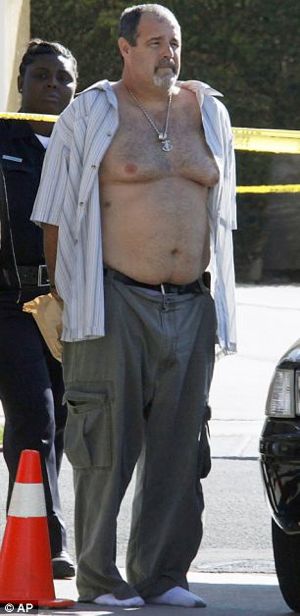 The preferred choice of adjudicating unresolved grievances…
Havoc. Pandemonium. Somewhere in Orange county where life is always pleasant and well to do people come with all year round sun tans. An attempt to soothe a bruised ego. Finger flustered.Inside, unsuspecting men and women at the Salon Meritage hair dressing salon are pruning and smiling. Door slamming, and then just like that bullets splaying courtesy of one Scott Dekraai bent on vengeance, bent on getting at what he sees as the truth, bent on paying back that 'bitch' that ruined his life.
9 shot, 8 dead. Good work if you can get it, but then again Scott Dekraai is an ex militia man with a deadly aim and now he's beating a hasty retreat on a local freeway. Foreign blood spilled all over his pants. Whether he knows it or not at the time, his murder spree will later become the biggest story in the country. But then again, he will have eternity to think about that once the cops catch up to him a quarter mile up the road….
It all began in Mr Dekraai's mind and probably before that when the judge presiding over his and his ex wife (Michelle Dekraai's ) custody battle over their 7 year old son awarded custody to the mother. And perhaps ironically we can all now see why, except that is for Mr Dekraai, who now has a few things to sort out…
Who could reason what was going on in Mr Dekraai's mind as he stood there in front of the salon, dressed in body armor (yes he had come fully prepared for battle, because life is always a battle…),seething, hurt, humiliated and robbed of his manhood,his child, his wife and his self respect. One could wonder. And just like that, Mr Dekraai focuses on the impending carnage infront of him, laying desperate bullets in a fast forward motion, like all the other action heroes in his life. Cause he at least was that in his mind, even if the courts thought otherwise. Job done and now where?
Who could imagine what was going on in Mr Dekraai's mind as the police suddenly pull over. Their guns raised at his. Their expressions of stupor to find a shirtless Mr Dekraai with a bounty of weapons alongside him. Battle was Mr Dekraai had intended and that is what he came for.
And just like that one quiet well to do seaside town, Seal Beach in South California is wrapped in a cataclysmic episode of dementia, shock, horror, stupor, mirroring that of Mr Dekraai's mind and who can know what to think as the blood stains seep their way through with the rest of the nation looking on with action man awe…