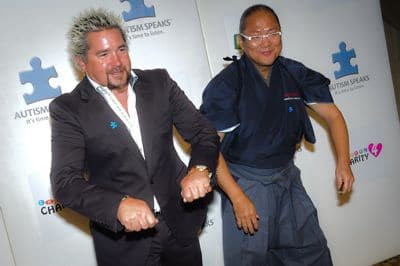 100 nation's top chefs cooked four-course tableside meals, to over 500 guests, this past Monday evening, which alone raised $1.4 million for Autism Speaks.
The Food Network's celebrity Guy Fieri, and CBS "60 Minutes" correspondent Lisa Stahl and Lee Schrager hosted the event at Cipriani Wall Street, alongside Bravo's "Top Chef" judge Tom Colicchio, Todd English, Masaharu Morimoto and "Iron Chef" winner Katsuya Fukushima, who volunteered their skills.
Co-founded by Suzanne and Bob Wright, Autism Speaks is America's largest autism science and advocacy organization. 1 in 110 children in the U.S. are diagnosed with having this complex developmental brain disorder. That is 1 in 70 boys, and constitutes a 600 percent increase in two decades.
An estimated 90 billion is spent on autism research, programs and treatment. This led to the establishment of the Combating Autism Act 2006, which provided $945 million to autism, over five years. President Barak Obama just signed the Combating Autism Reauthorization Act (CARA), which authorizes $693 million in federal aid, over the next three years.
Prompting national Centers for Disease Control and Prevention to deem autism a public health emergency, Autism Speaks oversees that federal funding, resources and programs are instated to best check, diagnose, and cure. Its "Learn the Signs" campaign with the Ad Council has received over $286 in donations; meanwhile it has effectively advocated for 27 states' insurance reforms to cover treatment of the shockingly pervasive disease.