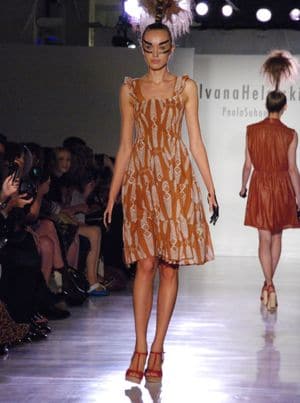 As black liquid from the models'  hands glittered the catwalk, my pupils dilated with longing for each piece of Ivana Helsinki's S/S 2012 collection, "Indian Summer". Paolo Suhonen, the designer, hit the nail on the head with the Native American trend for this season, delivering flowing frocks and knitwear featuring various tribal-inspired patterns that left me wanting more. Fire reds, neon yellows, navy blues and rusted oranges brought the Native American feel to a T. The major highlight of the show however was undoubtedly the hair and make-up; sky-high stacked ponytails, kohl black eyebrows and face décor communicated Suhonen's inspiration to the highest degree.
Suhonen kept the collection grounded with solid pieces as well. A favorite of mine was a pair of high rise light denim trousers which will most definitely flatter any body type (right, ladies?). A siren red knitwear dress with the on-trend longer hemline is certain to brighten any complexion. The last look, worn by a model with one of the fiercest walks I have ever seen, brought complete communication of the inspiration with a brilliant high contrast print and a modern twist on a Native American Headdress. The Ivana Helsinki girl certainly isn't afraid to take risks and stand out from the crowd. These are the kind of clothes one wears when it's time to shine, when you have to be the best-dressed all evening.
Images continue next page.