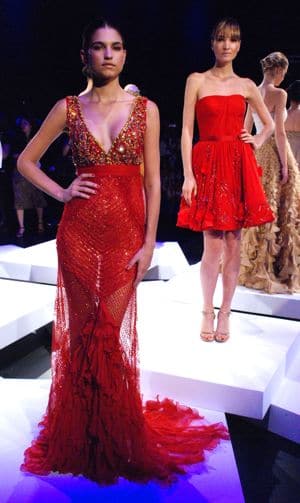 I imagine an important event, the kind of evening I'd need to be shockingly glamorous for as I descend an oak and plush red staircase. The eyes of my lover below are only for me, and I know I'll remember the night forever. For this occasion I'd absolutely be wearing a gown from the Farah Angsana Spring/Summer 2012 collection.
Dramatic silhouettes, extraordinarily intricate detailing and innovative patternmaking made this collection a true sight to see. (I regularly imagine the pattern pieces as I view a garment, and I was refreshed to be baffled by the construction of quite a few pieces). A red stunner featuring a beaded bodice (with the perfect amount of décolletage) slimmed at the waist and fell to the floor in an elegant fashion, revealing the leg from mid-calf below a sheer mesh overlay. In the far corner three white ethereal gem-encrusted pieces featuring feather detailing that Kate Middleton would die for stood out amongst the various other colorful gowns.
The dresses in Angsana's collection took my breath away, the gemstones, the pleats, the colors- frocks that transformed each model from a woman to a goddess. I believe they have the potential to do that for all women; each silhouette was different in some way, suited for various body types. Due to the powder and bright pinks, the fire reds and creams, whichever skin tone you may be, you can find something perfect for you in Farah Angsana's collection. Now all you need is that special occasion and a nearly unnecessarily elaborate staircase.
Article continues next page.