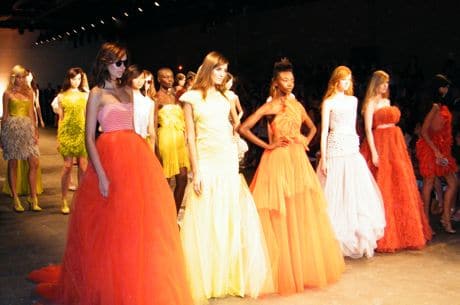 Young Project Runway star, Christian Siriano—whose success followed the death of his notably 'favorite' designer, Alexander McQueen—has struck it big, lately. Hosting his 2012 spring collection at Eyebeam, in Chelsea this past Saturday—Siriano continued his trends of frills, outlandishness and décor.
Tulle cocktail dresses, in an assortment fluorescent citruses—colors like lime, lemon, orange and blood orange—exquisitely shone on the runway. Crepe trumpet skirts, and wide legged comber pants, with drawstrings—accentuated models' delicate, thin skeletons. 38 looks, in just one show, evoked oversized multi-colored beach balls at times—while others, definitely ornate and mildly outrageous, followed in the paths of his idol, for whom he once interned—Alexander McQueen.
Stretch cotton tuxedo blouses, croc blazers, cape blouses and jersey striped t-shirts evoked casual summer days. V-back shift dresses in organza, ostrich and shell brocade conjured images of southern Mediterranean nights or of a summer Hampton's cocktail party. Layering, brocade and feathery embroiders are certainly this 25 year old designers trademark, as he sent a raked linen dress with layered yoke detail down the runway.
article continues next page