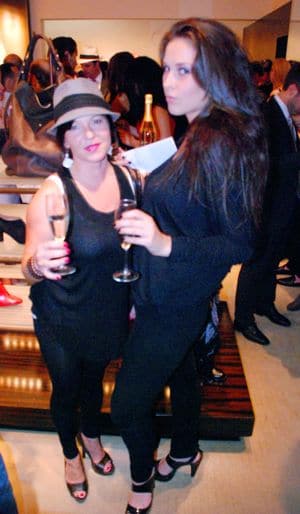 Spending Fashion Night Out in the Upper East Side is a far cry from the days when Andy Warhol worked and lived in the area.  The block of Madison Avenue between 58th and 59thStreet hosted three gala parties, red velvet ropes separating the haves and the have-nots.  I myself am not used to being on a list, unless it's the list of that pesky debt-collector that keeps calling or the Most Valued Customer list of Cheap-Cigarettes.com, but I braved the crowds of stilettos and Botox to take my place next to the wall fixtures.  With intrepidity, I attended the three of these events, and I am happy to report I felt like a fish out of water.
First up was Frattelli Rossetti, a boutique of beautiful leather shoes that boasted the exploitative gimmick of forcing a shoemaker into the window display, tirelessly working away at sewing together these wealthy people's footwear.
True to form, it was like a circus in there, hot and sweaty with me perpetually walking into some Italian designer or socialite's photo-op. Everyone at Fashion Night Out want their picture taken, and I was quite amused standing next to the full length mirror, watching every man and woman in the place taking conspicuous glances at themselves and their silhouettes.  Like a communist, I identified with the help, but sorely needed help speaking with them.  When I asked for the verb of what the shoe-tanner was doing, polishing and painting loafers emerald green and navy blue, he pointed me in the direction of some salesman.  Little did he know I was just a poor hack who makes very little effort by way of research.
Next up was Porsche Design across the street.  It may be news to you that a car company now has its own clothing line, but I am here to report that such global brands do indeed exist and to my surprise, are actually successful.
Walking in, I thought that forcing everyone to wear wristbands would ruin the dignity of the clientele's fashionable outfits, but taking a cursory look around, I realized dignity was out the window with men wearing bucket hats and sunglasses in the shop.  I figured Porsche Design catered to the likes of Jay Leno or Jerry Seinfeld, but no, it's Korean and Chinese expats and Brazilians that go gaga for the wide range of men's and women's polo shirts and tacky glasses, blowing $20,000 in one trip to the store, the shopkeeper informed me.    (The extravagance of these people; I watched a woman outside the door throw down a cigarette as soon as she lit it).
It was a truly worldly event, with a futuristic hookah on display from "India" and a real-life Korean serving hot tomato soup in plastic shot glasses for that little dose of authentic Orientalism.  The crowd ate it up, eager to ask what is they were tasting, so spicy!  I took my shot and got the hell out dodge.
(article continues next page)