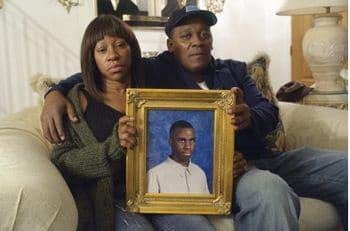 In gruesome news, a developmental aide supervisor at Staten Island's South Beach Psychiatric Center "surrendered to police" today, facing homicide charges in the death of Jawara Henry, a 27-year-old man who died of asphyxiation while being restrained.
According to the NYTimes, last December, Henry, who had little history of violence, bit two patients.  Three workers restrained Henry, but before a doctor authorized medication, Henry stopped breathing.
SILive reports that supervisor Erik Stanley, once bitten by Henry, put one arm behind his neck, one in front of his neck, took him to the floor on his stomach and got on top of him.  The DA has concluded from their investigation that Stanley did not follow protocol in restraining Henry.  He faces charges of criminally negligent homicide and endangering the welfare of an incompetent or physically disabled person
Henry's parents gave a press conference this afternoon in their attorney's office, claiming this was not the first incident of abuse.  "Each time she expressed concern, they reassured her that he was in the best of hands," said attorney Gary J. Douglas. " There's no question that this was systematic… it's about an attitude of abuse and neglect, and a pervasive attitude of neglect."
A savvy attorney to take Henry's story to the press, associating it with Willowbrook conditions that Geraldo Rivera made infamous.  Autism is not mental illness, and such an apparently gentle young man hardly deserves such severe treatment.  The fact that Stanley is an authority in the state-run institution does not bode well for his case; could we forgive a newly hired aide easier if they did the same thing?
The irony is that I don't want attorney Douglas' implication to be true.  While abusive, endemic conditions at the institution may help his case, who would want that to be true?