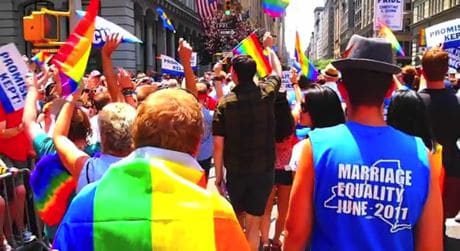 And them bitches really partied.
There's nothing like a celebration to release the stored endorphins, tensions that had been gritting up against each other leading up to the recent passing of NY state same sex marriage rights. As most of us would argue- 'about friggin time!' the whole thing portends to what makes NY so great and appealing in so many peoples eyes in the first place- a place where you can be whom you really are (or as the song says in the above video- I was born to be survive, I was born to be brave, I was born this way). A place where you bitches can come and reach for the stars (even if it nearly kills you), but at least on your own terms.
Anyway- here's to NY, same sex marriage, equal rights (gawd why does it take so much of a fight to get such things?) and the spirit that is NY and the vast tirade of good will amongst people who sometimes can't stand each other. Welcome to NY, welcome to one of the best cities in the world.
Now watch that video and as Ms Dawson (whom I pinched this video from and our number one hawt bitch of 2010) likes to make note, make sure to turn up the music up. Way up!!