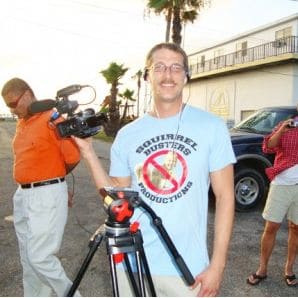 Mark Rathbun, vocal critic of the Scientology after he left his official post in the "Church," noticed cultish figures filming his every move.  The Mayor of Ingleside on the Bay promptly passed an ordinance requiring film crews to obtain a permit before they start stalking people.
Ingleside Index: According to documents obtained by the County Attorney's office, "On April 18 four individuals donning blue shirts with the name 'Squirrel Buster Productions,' as well as a squirrel with Rathbun's face superimposed on it under a strikeout symbol, and fitted with video cameras around their heads knocked on the door of Rathbun's home, which was opened and promptly shut by him.  Rathbun reopened the door, holding his own camera to capture the event.
One of the men then introduced himself as John Allender and demanded that Rathbun show his "Meter" and "PC Folder."  Rathbun asked the crew to leave the property, but the crew continued to film and taunt him.  Frustrated, Rathbun yanked a microphone away from a crewmember who asked for it back, which Rathbun eventually returned.
"Squirrel Buster Productions?"  These creeps are certainly creative with their covers.
They also stop at nothing: after the initial incident, the crew unsucessfully filed criminal charges against Rathbun, tried to rent his neighbor's apartment, then settled for a house down the street, then took to filming him on board a pattleboat behind his house.  Finally, the mayor stepped in, making it illegal for the Squirrel Busters to harass Rathbun.
Do not underestimate Scientologists, though: While Rathbun is grateful to the City of the Ingleside on the Bay for their concern and help, he feels the ordinance would probably not be effective.
"$500 is like chump change to these guys.  And if they do violate the ordinance, they'll get a different crew, a different identity."
Say what you will of Scientology, one has to wonder what type of religion goes out of its way to spy on ex members and what this on a whole has to say about organized cult figures? But maybe that's maybe half the allure of being a scientologist?
So much for being crafty…