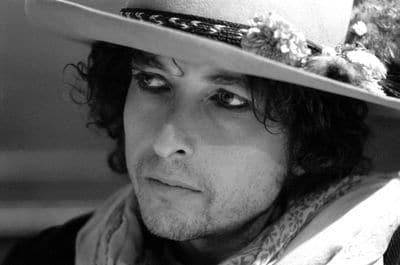 Bob Dylan's music career is the stuff of legend. This is not news. What is newsworthy is the limited release publication of Ken Regan's photographs of Dylan from 1975.  Morrison Hotel Gallery, a charming Soho storefront with a taste for timeless photos of musicians has published their first ever volume of photos spanning Dylan's time with the Rolling Stones on tour during Rolling Thunder.
The book is a limited edition, and well-worth the cost for longtime fans of Bob Dylan. The photos are iconic and simple. Ken Regan did a phenomenal job of capturing Dylan on and off-stage. The photos portray Dylan… being Dylan: a lean, raven-haired man with music on his mind and a hat on his head. In one shot, he is playful. In another, pensive. A third, hard at work before a mixing board, cigarette in hand. A fourth, playing backgammon alone in his hotel room.
I have no talent for photography, but even I can see that this is masterful work. The photos are balanced and well-composed.  The subject is of only somewhat greater importance than his surroundings: Dylan on tour, day after day after day in the life.
The volume is a must-have for Dylan devotees. It illuminates an entire  swathe of his life that fans might otherwise never see.  Indeed, some of these iconic shots haven't seen the light of day for decades.  Regan knew precisely how important the gig was.
"I grew up idolizing the guy," he explained. "I got to follow him for three months. It was like a dream I never woke up from." His months spent on tour with the icon might as well have ended yesterday.