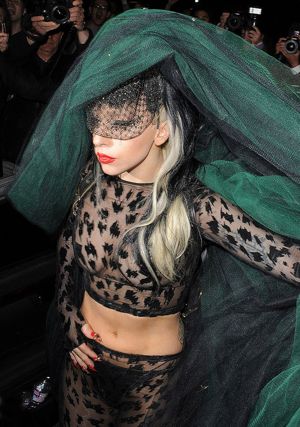 'I haven't been on any dates recently because I have been working so hard and I get very bored very quickly with men,'
This is what Lady Gaga had to say last night on the Graham Norton show, which should either put a shudder in your spleens or encourage you to come out of your shell and finally make your pass…
This after her on and off fling with boy toy thing Luc Carl was finally called off…
dailymail.co.uk: She had publicised her adoration for Carl,30, on numerous occasions in the past and, most notably, opened up about her feelings during an interview with Rolling Stone magazine last year.
At the time, she confessed: 'I've really never loved anyone like I loved him. Or like I love him. That relationship really shaped me.'
But the quirky pop star's single status has been plagued with a question mark in recent months after she had remained tight lipped about whether or not she and Carl were still an item.
Kids- me's thinks that Gaga don't need another love affair, as we her entourage are her defacto love affair, but in the event you think you can woo this woman, may I suggest you put on your biggest wig, retro disco boots, your hilly billy swagger and a pint of the white stuff in your back pocket and one never knows what will come of it.
Until then, feel free to stare deeply into the eyes of Gaga hanging on your bedroom wall and maybe she'll coo back- "Who needs love when you have an adjustable  fan base to go down on you…"
ALEX STEBBINS WANTS YOU TO KNOW THAT LADY GAGA STOLE HER BOYFRIEND.
LADY GAGA IS IN LOVE WITH JUDAS AND THE CHURCH IS LIVID.
LADY GAGA CONFESSES SHE USED TO BE A COKE WHORE.
GRAMMY UPDATE: BIEBER WEARS SEMEN-COLORED SUIT, GAGA ARRIVES IN AN EGG
HAVE YOU TRIED WALKING IN THE LATEST LADY GAGA SHOES?
LADY GAGA'S MEAT BIKINI: TOO BUSY WEARING FOOD TO EAT IT?
The Lady Gaga Barbie doll is finally here.
Gaga. Fascinating "Free" Dame.
Lady Gaga wants you to understand one day in the distant future she wants to be left alone.
Bad Romance. Lady Gaga and her ex head to the courts.
Authentic Message or Gaga Flair?
When fancy dress becomes a permanent state of being, Lady Gaga style