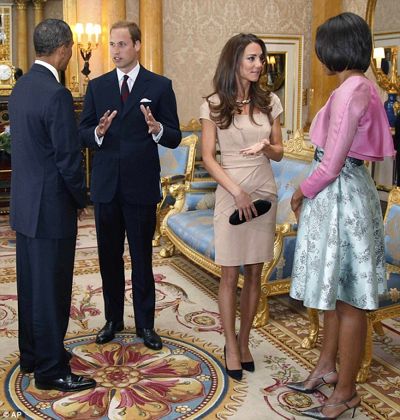 Soon the whole world will be on a super slim diet.
The web has been abuzz today following Prince William and Kate Middleton's meeting with the Obamas who are visiting the UK. And what's causing all the fuss? New foreign policy, mind blowing discussions? No- just Kate's slimmer than ever figure (yes kids- it's not correct that little Pippa takes all that attention when 'it's me damn it' who married the Prince!) and of course her new dress.
news.com.au: KATE Middleton has done it again.
Her choice of dress when meeting the Obamas at Buckingham Palace has set off a fashion frenzy – and crashed a website.
The new Duchess of Cambridge wore a knee-length, camel-coloured shift dress from her favourite fashion label, Reiss.
Pictures of her in the £175  ($268) "Shola" dress saw demand for the item soar, so much so that the UK retailer's website was unable to cope.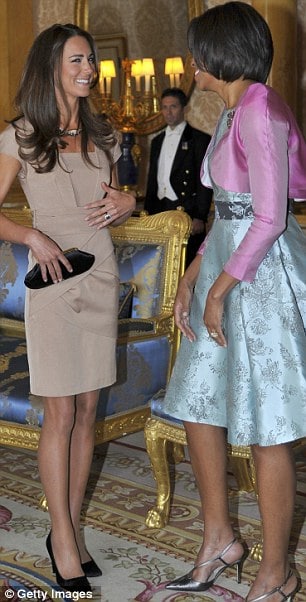 How fitting that the whole world will now be walking around wearing camel colored appendages. Perhaps this is the weekend I will bring out my camel colored safari jacket? After all we are just around the corner from summer.
And then there was Kate's figure to contend with:
dailyail.co.uk: It's her first Royal engagement since her honeymoon.
So perhaps nerves have got the better of Catherine Middleton, who looked slimmer than ever when she met the Obamas at Buckingham Palace today.
Like most brides, the Duchess of Cambridge shed pounds ahead of her wedding to Prince William last month – but it appears her ten-day break in The Seychelles did little to increase her appetite.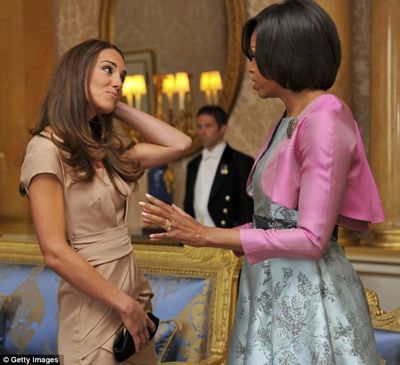 Nerves? Or just a rush to belong to the fashionable set that broach the idea that being as thin as a pencil is as akin to a strawberry daiquri on a Caribbean holiday. But never mind, with the likes of Pippa to contend with is it any wonder that Kate hasn't stopped at pulling out all stops?
One day deep in the future Kate will be dangling from the royal palace in her own designer ivory bikini with the Prince nonchalantly applying fake tan to the applause of a smiling press corps.