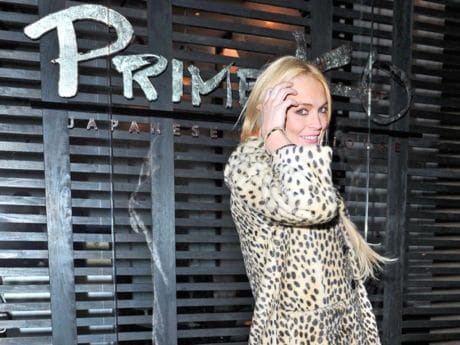 Quiet Monday to Friday- a celebrity mob scene by the weekend.
Kids- we have just a new restaurant for you to tear it up in. That said, be warned the rabbi and the neighbors might not be so happy with you when you finally turn up…
dnainfo: UPPER WEST SIDE — A hip kosher steakhouse whose customers include Lindsay Lohan, New York Knicks players and Israel's chief rabbi is too rowdy for the Upper West Side, say neighbors.
Shabbat-celebrating hot spot Prime KO is drawing complaints from residents of West 85th Street and Broadway.
They say the restaurant, which opened in May 2010, is quiet during the week but attracts partying crowds on the weekend who linger on the street talking loudly after the rabbi-approved eatery closes.
The angry neighbors showed up to complain about the restaurant at a Community Board 7 meeting this week where Prime KO's application for a sidewalk cafe permit was reviewed.
Kids, I don't know about you- but when I lived on the Upper West side before yuppies stormed the place it was the dullest place on Earth. In fact when the yuppies moved in with their $465 baby strollers and Starbucks set up shop every 3 blocks I knew it was time for me to move out. But with Prime KO being the haute little eatery that it is- I wonder if I should manage a trip up there and find out how the Upper West side is reclaiming a wonderful resurgence that my old fussy neighbors are trying to petition to death.
While the restaurant's all-kosher menu and special events like Passover Seders have won fans among observant Jews, Prime KO's stylish vibe has attracted celebrities since opening night. "The Sopranos" actress Jamie-Lynn Sigler, along with Oklahoma City Thunder center Serge Ibaka, were in attendance that night, according to the New York Times.
Prime KO's Facebook page and Twitter posts beckon customers to events like Shabbat Across America, while also showing off snapshots of celebs like Lohan, whose recent dinner at Prime KO made Page Six.
continued next page.