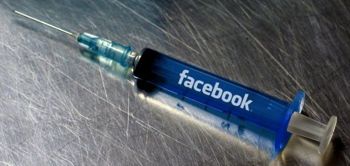 Ahhh, the paradox of progress. Sure, the entire world (except China, still waiting on them) has been linked together via the great social network we proudly refer to as The Facebook, but of course, there is another side to the coin. That damned network is more enchanting and alluring than Jim Jones, and it's beginning to become similarly fatal.
AP:  A northern Colorado woman who was playing a game on Facebook while her 13-month-old baby drowned in a bathtub was sentenced Friday to 10 years in prison.
Shannon Johnson, 34, of Fort Lupton, cried as District Judge Thomas Quammen told her he didn't think she was a bad person or that she killed her son on purpose, the Greeley Tribune reported. But, he added, that doesn't mean her action wasn't criminal.
If her son was a frog, this is a non-story, and he'd likely still be alive, but sadly he was not. Momma Inmate Johnson (DF-458790) chose Farmville crop-rotation over small-time lifeguard by the bathtub. But of course, she was doing the right thing.
According to the affidavit, Johnson told police the boy "wanted to be left alone" and was a very "independent baby."
She also told police she knew what it was like to be told "no," and she did not want her baby to be told "no."
The affidavit says she also did not want him to be known as a "mama's boy."
13-month-old babies typically have 3-5 word vocabularies and say things like, "da da, ta ta, or Waaaaaaa." Unless this was a baby-genius– able to express his yearning for solitude and privacy– Johnson made up the whole "wants to be alone" thing so she could get back to what's really important– that glorious, well-diversified, freshly-tilled and brilliantly rotated virtual farm.
She'll have to get used to being told "no" again, as in "no more phone calls, no more real food, and no more daylight."
They say bad press is better than no press, but "Facebook Kills Baby" might test the old axiom. Take your foot off the gas, Mark Zuckerburg, worldwide puppet-master. Whatever subliminal, hypnotic messages you're coding into these programs, please tone it down a notch. Take your Blue Magic and dilute it just a tad, for safeties sake.
At time of publishing, no word yet on who Johnson has selected to inherit her beloved farm.
RIP baby Joseph.