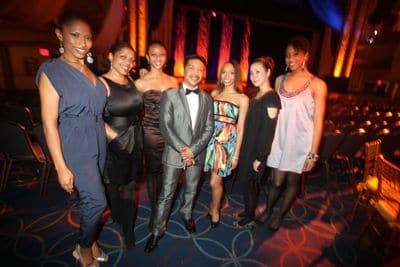 This week, the Manhattan Center saw fit to host the 7th Annual Evidence Gala, A Breath of Spring. The fundraiser was the place to be, Tuesday night, with stars of stage and screen in attendance. The festivities were spearheaded by Evidence's founder and artistic director, Ronald K. Brown.
Thankfully, the constant rain didn't deter the guests from arriving. "Hopefully we'll bring some sunshine indoors, tonight," said Brown.
Evidence was founded in 1985, and has followed the same mission since its inception: "To create works that lift people up. To create work that's a reflection of you." For over twenty-five years, Evidence has worked to make connections between its African American audiences and a long legacy of music, movement, spirituality, and community. Brown said smiling, "Evidence is for anyone who believes in liberation."
Brown shared the stage with seven members of his company, ranging in age from 23 to 44. Some of the dancers were inspired to work with Brown from the first time they saw him. "I didn't have any formal dance training in school," said Otis Donovan Herring. "But Mr. Brown's movement was the most natural I've seen. I've worked with him ever since."
One of the premier patrons of the arts, Reggie Van Lee, was in attendance and dressed to the nines. Van Lee is the Chairman Emeritus of the Evidence Board of Directors, Chairman of the Board for the New York International Ballet Competition, as well as Treasurer and Trustee of the Studio Museum in Harlem. He was also appointed by President Obama to the President's Committee on the Arts and the Humanities.
"I'm a student and fan of classical ballet," said Van Lee. "But Mr. Brown told me about his fusion of different dance styles. I walked in and I was blown away. I was drawn in, I had no choice! Wait 'til you see it for yourself."
The gala was hosted by power couple Gregory Generet and Tamara Tunie, who urged their guests to dig deep for the Dance. "I love this dance company," gushed Tunie. "I fell in love the first time I saw them perform years ago. They're one of my absolute favorites."
This was a fundraiser, and one of their chief instruments was a four-star silent auction (still going on) via CharityBuzz.com. Luxurious vacations, gourmet meals and tickets to some of next season's biggest awards shows were on the auction block… and still will be through April 20th.
Guests came sharply dressed, in tailored tuxedos and sweeping gowns in every color of the rainbow. This was more than just a party or a chance to network. People were truly happy to see each other; laughing, embracing each other. It was a smash.