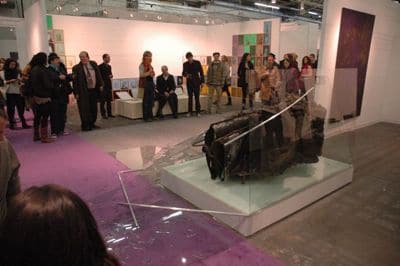 What to say- perhaps it was meant to be, or in and of itself it created a kind of eerie art spectacle as much as the work in question itself did.
Nevertheless with 15 minutes to go before closing of the Armory's previewing to media and VIP's – the free standing work belonging to Galerie Laurent Godin (out of Paris) toppled over. And was there a mess, or should we say a new kind of re arranged art? How or why hasn't yet been declared, although I did meet a woman who claimed the whole thing imploded after she put her finger to the glass casing. Was she serious?
Let's hope a resolution was found as of this morning when the Armory was set to open to the public.