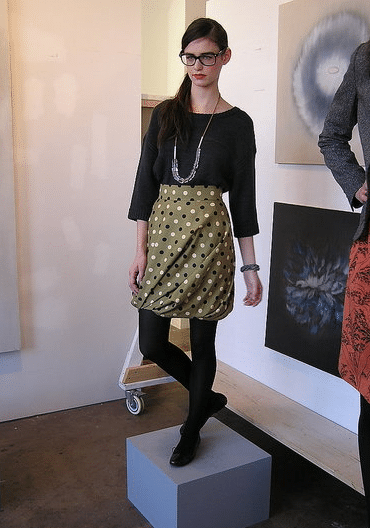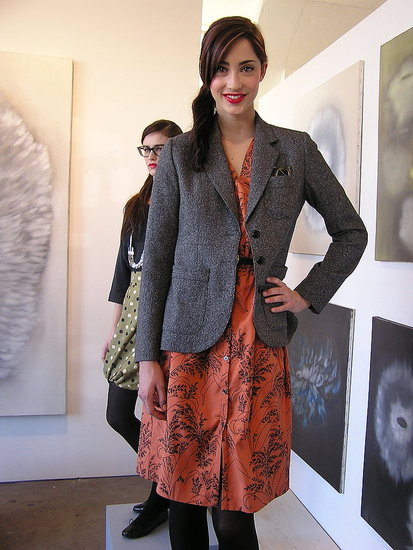 Whitney Pozgay's Fall 2011 collection, "WHIT", which marked her second show, was a confident blend of her whimsical personal aesthetic and her savvy knowledge of what women want to wear. The collection was billed as "Hitchcock meets Tavi, with a dash of Grey Gardens." Not off the mark in terms of style, but the collection itself was comprised of so many cute separates, it was easy to imagine any sort of girl finding something she wanted to have in her closet.
Pozgay, an unaffected but confident woman, has an effortless personal style. While we're used to designers trying to capture the elegance of old Hollywood glamor, she manages to make the clothes from your grandmother's trunk what you might see between the covers of Cosmo. In fact, she said herself that she was going for a "modern grandma" kind of look. This comes through in the silhouettes of some of the pieces, with the long legged slacks and 30's style blouses. She jazzes things up with bold polka dot prints and a recurring bird motif (hence the Hitchcock). She has a talent for taking an idea for a skirt and making it feel as fresh as a sweater. This versatility serves her well with everything from a gray woman's peacoat to a traditional suit jacket paired with a big white bow-tie and a short black skirt, outfits that have a cool theatrical appeal without going over the top.
The colors were appropriately autumnal and understated. She tended towards muted browns, grays, and oranges, but always with a dash of the occasional rich blue or mustard yellow to offset what could otherwise be too drab. The styling was one of the best parts. There were ladies who paired their elegant dresses big clunky jewelry, long red gloves, or bangles. My favorite recurring accessory was the geek chic glasses some of the model wore, which really hinted at the kind of girl Pozgay had in mind when she designed her collection. A girl who likes to put a little personality and fun into her outfits, and isn't afraid to put disparate elements together to create a different sort of look.
What stood out most was the sheer versatility of it all. These were all pieces that could go into the store right away and be paired in numerous ways. Pozgay keeps things fairly commercial but never forgets that her personal vision is a part of it. Her inspiration may have been to pretend she was a little girl rooting around in her grandmother's attic, but what she made of the treasures she found there is youthful, and of the moment.