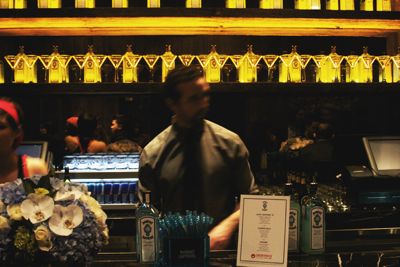 I rarely drink alcohol and eat meat… last night I left full of pork belly and Bombay.
What was last night? It was the Grand Opening of Hell's Kitchen's Ember Room. A Korean barbecue with inspired design, the place was barely finished being renovated as the crowds outside pressed to be let in. Although opening a half an hour late, we were lucky enough to be in the front of the VIP line where when upon entering, our coats were quickly taken out of our hands and replaced with a Bombay Sapphire drink and round one of an assortment of dishes.
Handsome Chef Todd English and brilliant Chef Ian Chalermkittichai (who we are most familiar with from his former downtown hotspot Kittichai) were on hand to pose and pass out delicacies, while the sous-chefs diced scallops in front of the brick oven in the center of the restaurant.
The restaurant was filled with beautiful faces. Those working there were vertically blessed and those in attendance were also of the same measured stature. As the restaurant got too crowded, we ascended the steps to a second floor that had a bar and overlooked the first floor. Enveloped by a ceiling of tiny brass Thai temple bells, I was kept content by attentive servers who plied me with wine and hor dourves.
With sea bass, chicken lollipops, and scallops the Ember Room's dishes received an A in my book. The decor also received an A. Best suited for a romantic night out, the reclaimed wood ceilings, sultry interior, and brick fireplace, make for a cozy prequel to foreplay.
The only thing that did not suit my fancy was location. Although I have a friend or two that lives in Hell's Kitchen, establishments like the Ember Room are best suited for downtown so that on the occasion I do enjoy a cocktail or six, I can stumble my drunk-self home with a bit of dignity instead of being forced to hail a cab or worse yet…  make my way down dicey 9th avenue  to descend into the subway.