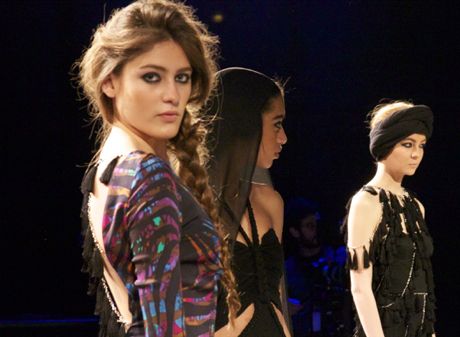 We arrived to Mara Hoffman early hoping to be enthralled by the young designer. We were met with a line of pseudo-celebrities and aggravated paparazzo already over the general hustle and bustle of fashion week with day one even barely half way through. Standing outside for over 45 minutes and photographers yelling at Emily Bungert of the infamous "House of Cutrone" aka People's Revolution to "let them in" (as they had to get to Tadashi Shoji… because who the hell was Mara Hoffman anyway?) we too began to wonder what was going on in there.
As the atmosphere grew incredibly hostile and I began to fear for my life because the photographers were 5 minutes away from staging a coup (and then making their way to Tadashi show which started in approximately 9 minutes) Emily opened the doors. Trampled by angry photogs, I finally made it inside to see the presentation.
The models were propped on a platform in all of their goddess glory. Although not my style, Mara Hoffman executed her inspiration. Inspired by her husband's collection and the expectation of their first child, Mara's clothing were a "juxtaposition of spiritual warrior and goddess where veil meets turban".
Her collection was filled with original prints and girls in bold tones and black sunglasses. Created for the Bohemian-chic, free-wielding, twenty something woman, Hoffman's collection represented a sort of dainty strength that the suburban girl who often visits the big city exhibits. While each girl's outfit felt cooler than the actual girl that would wear them, the Japanese psychedelic pop girl band complete with guitar, bass, and drum set (and Mara Hoffman veils), was the real deal. 
Surviving an angry flash mob of photographers no pun intended, Mara Hoffman was my first flirtation with the fall collection. With Fashion Week only a day in, I have one request. Please give me more psychedelic Japanese pop girl bands and less overdressed fashion students looking for their 17 seconds of fame… and I will shuffle to whichever seats you want me in.
MARA HOFFMAN AND TRINA TURK STAR AT THE MERCEDES BENZ 2011 SWIM WEAR COLLECTIONS.