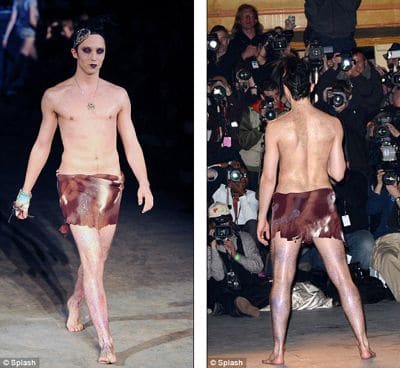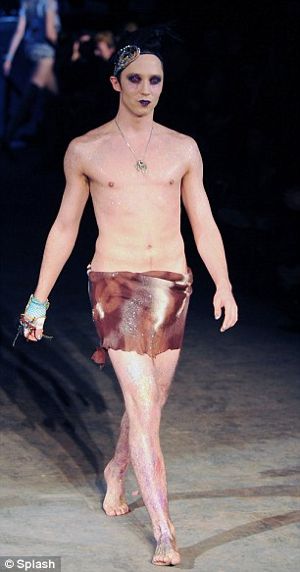 This season's top contender for ubiqitous  fashion whore belongs to figure ice skater, Johnny Weir. Why you wonder? Because when Johnny finishes showing you the size of his peens you will intimately understand.
insideavenue.com: There is always a celebrity that uses Fashion Week to lap up the limelight, hitting every front row they can, giving countless interviews and basically hogging the spotlight. No stranger to show-stopping style – this season's surprising face of Fashion Week is figure skater Johnny Weir.
Indeed, in keeping with his campaign to be an unobtrusive media whore and delicious eye sore Johnny blessed us last night at the extravaganza known as "My name is Richie Rich, and instead of giving you a fashion show I have decided to give you a rock n'roll show starring all my favorite media whores."
See, there's Johnny showing(in the pics below) off his peen and those toned abs, and of course all that mascara he likes to keep in his basement. To be sure Johnny with all his other lovely friends was an amazing eye sore.
But there's more. Always more…
And the icing on Weir's Fashion Week cake? He will be doing a live performance at one of our favorite designer's shows: Elise Overland. Presenting her clothes on ice tomorrow – at the Standard Hotel's pop-up rink, Weir will close the show with a performance. And of course the cameras will catch every spin and turn. We can't wait.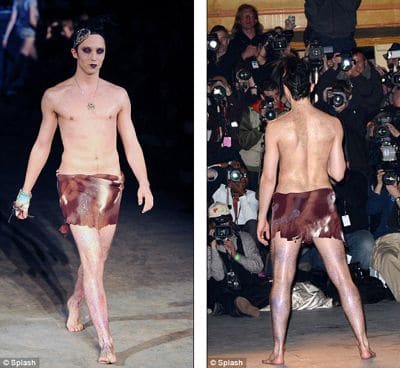 One day when Johnny is strutting down the streets in some far far away country he will notice a tattered picture of himself flapping aimlessly in the wind, to which he will think to himself:
'Amazing, even little children in Mongolia know about me…'